Write On! Features: Choosing What To Read by R J Gould
By R J Gould
Publishing a novel is a great achievement. In the twentieth century, the process required finding an agent who would then search for a suitable publisher. The competition was (and still is) intense, with agents taking on only a handful of new authors each year, selected from the many thousands who send in the required three-chapter extract, synopsis, and covering letter. Step One on the way to success was when an agent requested a full manuscript. Step Two was when an agent took you on and began the search for a publisher. Step Three was them finding you a publisher. The danger of disappointment at each step was high – it was never easy to get published!
In the 21st century, one route to getting published is relatively easy, thanks to Amazon's Kindle Direct Publishing (KDP) service, initially set up for eBooks, but before long the opportunity to produce a paperback was added. This service doesn't create a good book; that's up to the author. Indeed, one of the downsides of KDP (for the reader) is the lack of quality control. But it has enabled some great authors, snubbed by traditional publishers, to put their work out there, generate a substantial readership, and earn a high income.
But sadly, many great authors who have self-published still don't get a look-in. For self-publishers, the tough competition is no longer finding an agent and a traditional publisher. Instead, it kicks in after publication. How can a new author's book be found amidst the enormous volume of books out there?
The challenge to gain visibility is huge in the saturated market for eBooks. How saturated? The answer is staggering, though Amazon makes it difficult to find an exact number. Based on others' research, for example by Derek Haines of Just Publishing Advice, there could well be 7,500 new books released every day. The most conservative estimate arrives at a million new books per annum. Repeat, this is the most conservative estimate.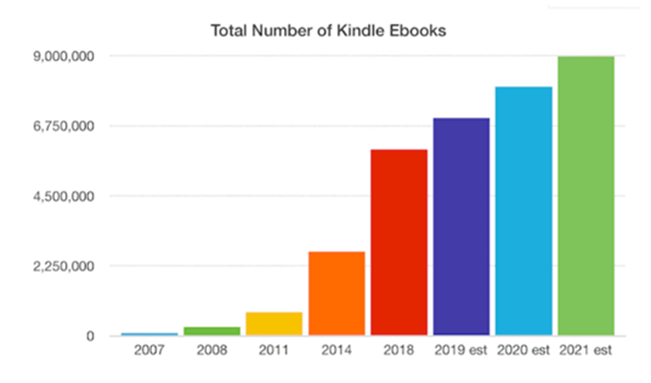 Finding an author's book page is in itself a huge challenge. This topic alone merits a War And Peace-length article. But, assuming a book page is reached during a reader's search for something new, what influences their decision to go ahead and select that book?
To delve into this, I set up a survey asking one question:
From the list below, which is the single most important factor when selecting an eBook written by an author who is new to you?
I listed ten options, based on what is visible on a book's Amazon Home Page: Cover, Reviews, Description, and Anything Else. I left out Price, though. Of course, this is a factor but, with a large percentage of downloads from Amazon through Kindle Unlimited, I felt this would distort the findings.
I posted this survey on a variety of Facebook reader groups, avoiding if possible anyone who knew me, and groups filled predominantly by fellow authors. I was happy with the volume of responses –approaching 300 – enough to make the results statistically significant. Some respondents messaged stating they used several measures ahead of clicking the Download button to access a novel. I accepted this would be the case, but wanted to identify the first thing they turned to, the one that would tempt them towards further consideration.
Here are the results: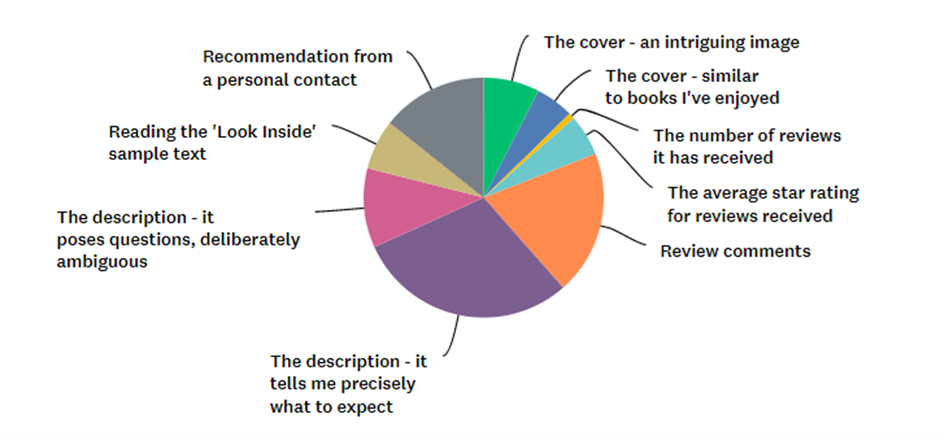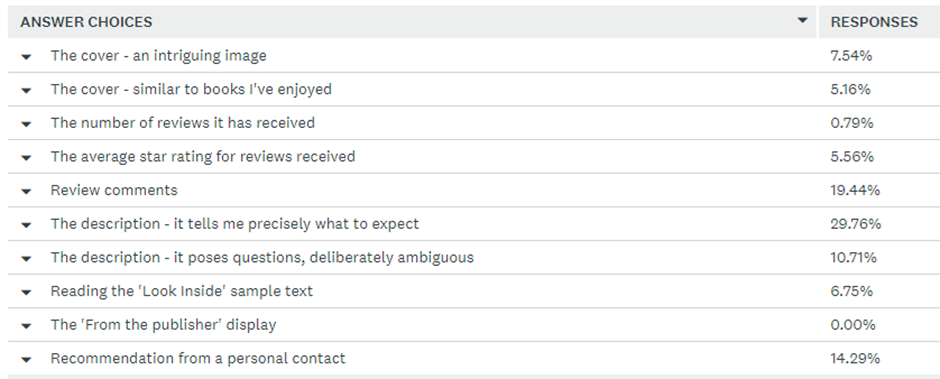 Which one of the ten options would you have selected?
Top of the list in the survey with over 40% was Description, subdivided between It tells me precisely what to expect (30%) and It poses questions, deliberately ambiguous (10%). Readers seem to prefer a straightforward account (presumably without spoilers) against any cryptic blurbs.
Reviews scored 26%, with Comments the highest percentage and Ratings taking most of the rest. I was surprised to see such a low score for Number of reviews. Perhaps readers share my wariness about value when some unknowns manage to acquire thousands of reviews on release.
Recommendation from a personal contact with 14% is clearly important (so please recommend my novels to friends!). Reading the 'Look Inside' sample text (6.75%) is low. You'd think people might want a quick read before deciding what to buy. Mind you, I rarely do that myself.
Amazon has been promoting something they call Content+, allowing publishers/authors to add displays on a book home page. I've produced some (examples below – and you can click on each one for a preview read), but with a score of 0% in my survey, perhaps I need to reconsider constructing them, because they take ages to put together.
There is much to cover about tactics for promotion and marketing to get anyone to arrive at the home page for one of your books. This survey covers only a single part of a complicated jigsaw, the one after a reader has found you!
I made a big decision a couple of years ago to move from two publishers to self-publishing, in part because of the lack of promotional support from my publishers and, without having access to the data to analyse sales, a limitation on what I myself could do. On balance, I'm pleased I made the change, but recognise the necessity to have a long-term view on progression towards wider recognition.
To conclude, it's an uphill battle for all authors, whether traditionally or self-published. Most important, is to never lose sight of the enjoyment of the writing process itself and the pride gained on having completed a novel.
R J Gould writes contemporary fiction about relationships, using a mix of humour and pathos to describe the tragi-comic life journeys of his characters. He is a member of Cambridge Writers and a rare male member of the Romantic Novelists' Association.

Before becoming a full-time author he worked in the educational and charity sectors.

He lives in Cambridge.

Website: www.rjgould.info

Twitter: rjgould_author

Email: rjgould.author@gmail.com

Facebook: RJGouldauthor

Instagram: rjgould_author
*****
Read the latest issue of Write On! magazine online.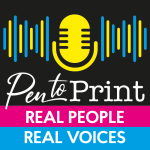 You can hear great new ideas, creative work and writing tips on Write On! Audio. Find us on all major podcast platforms, including Apple and Google Podcasts and Spotify. Type Pen to Print into your browser and look for our logo or find us on Anchor FM.
What is the single most important factor when selecting an eBook written by an author who is new to you?