Write On! Features: Ghostwriting by Stephen Hunt
By Stephen Hunt
"What are you working on?"
It's a common enough question when you tell someone you're an author – but here's the thing: I can't tell you. You see, I'm a ghost.
I don't pass through walls, I don't get chased by Scooby and the gang, and I don't wail in the middle of the night – well, except when I can't find the right words. I'm a ghost writer. I'm not really supposed to exist.
What does that mean? Well, next time you see a book by some politician or celebrity, there's a fair chance the words haven't been written by that person directly.
Maybe it's a would-be leader of a country who turns out a publication to support their campaign tour and you wonder how they had time to write a whole book while stumping for votes.
Maybe it's a reality show star with a book about their journey, just in time for trying to land the Christmas number one record.
Maybe it's a lifestyle guru who wants to coalesce their thoughts into a manual for life.
Step forward the ghost writer – who has the time and the skill to create the book that the famous person may not be able to provide.
In my case, I've written a number of biographies, published as autobiographies, supposedly told in the subject's own words. That's not a lie;  at least, not in the hands of a good ghost writer. You see, everyone has their own voice: the way we talk, the kind of words we use, the way we phrase things.
You've heard of dialect, the form of language belonging to a region, such as Cockney or Geordie. When it comes to an individual, that person has their own speech habits. Perhaps there are certain phrases that repeat when they talk, perhaps it's the complexity of words they use. That's called their idiolect, their individual dialect. A good ghost writer not only tries to capture the content a person wants to express, but also the way they speak and their mannerisms.
So, as I've pored over old articles and listened to recordings of a client going over their past, I listen not just for what they are telling me, but also how they are telling it. To tell their story in their own words, or as close to their own words as possible, while also rearranging it to make sense of the story.
Ghost writers can be found haunting all kinds of places. I've written articles for newspapers, write-ups for websites and instructions for games. All of these without acknowledgement other than payment for the work carried out. It's not a job you take on to become famous!
And yet, some very famous books have been ghost written over the years. Franklin W Dixon and Carolyn Keene were the names on the covers of the Hardy Boys and Nancy Drew books, but that was really a team of different ghost writers behind those names. Many of the Jason Bourne books – ostensibly by Robert Ludlum and turned into a hit series of movies – were written by Eric Van Lustbader taking on ghostwriting duties, in this case publicly, but some of Ludlum's other books after his death have been continued by more anonymous hands.
The RL Stine books were produced at such a rate, two a month at their peak, that there is speculation there are ghosts producing at least some of those Goosebumps. And Donald Trump's book, The Art Of The Deal, was ghost written by the writer Tony Schwartz. Famously, Schwartz came to regret writing Trump's book, saying that he "put lipstick on a pig" to improve Trump's image.
There are more, too: horror writer HP Lovecraft was hired by the escapologist Harry Houdini to write a story for him. Who wrote the autobiography of US President Ulysses S Grant? No less a person than Mark Twain! It's not even a new phenomenon. There are suggestions that The Count Of Monte Cristo may have been less to do with the pen of Alexandre Dumas and more the one wielded by Aguste Maquet, on whose tombstone are written the words: The Three Musketeers, The Count Of Monte Cristo, and La Reine Margot.
So why do ghost writers do it? Well, it pays. That's always a consideration. Being a ghost can be liberating, too. You can write the book without having to worry about all the marketing and promotion afterwards. That's up to someone else. A ghost doesn't take on the promotional tour. No one wants a ghost's autograph.
On occasions, when the editing process is not as smooth as it could be, it's even a blessing not to have your name attached to a project. Everyone wants the writing and publication process to be as smooth as possible, but as a ghost writer, you can work for publishers or clients where that's not always the case.
But when things do work out right, you can help someone who might be very gifted in another area, but needs help when it comes to pulling together their thoughts and telling their story. That's when it really pays off for me; when you see someone proud of the final product, going out and telling people that this is their story.
I've stood at the back of the room at a book launch, as the client tells everyone present about their book – and I'll admit I've felt pride at my part in the process. It doesn't need my name on the cover; though you may find it somewhere in the acknowledgements. That doesn't matter to me. I'm just happy to have helped someone share their story with the world.
And that's where it ends.
Until someone asks that question again:"What are you working on?"
It's a question I can't answer. So I just smile and say I have a few projects, and we move on. After all, I'm a ghost, and I'm looking to find some new haunts.
*****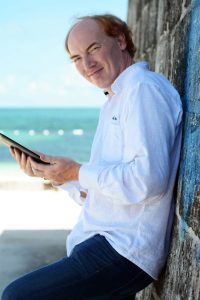 Stephen Hunt is a journalist, editor and ghost writer working in The Bahamas. He is also a writer of speculative fiction – from fantasy to science fiction, by way of a little horror and alternative history – under the pen name Leo McBride. He has a blog: alteredinstinct.com, and you can follow him on Twitter: @AlteredInstinct and Facebook:  facebook.com/leomcbrideauthor/. He is on Goodreads, and his speculative fiction works are available on Amazon.
*****
Read the latest issue of Write On! (13) magazine online here.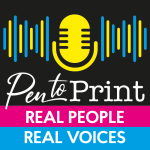 You can hear great new ideas, creative work and writing tips on Write On! Audio. Find us on all major podcast platforms, including Apple and Google Podcasts and Spotify. Type Pen to Print into your browser and look for our logo or find us on Anchor FM.
*****
If you or someone you know has been affected by issues covered in our pages, please see the relevant link below for ​information, advice and support​: https://pentoprint.org/about/advice-support/
So why do ghost writers do it? Well, it pays. That's always a consideration. Being a ghost can be liberating, too.