Write On! Features: The Link Between Writing Plays And Ceremonies by Carole Pluckrose
By Carole Pluckrose
For as long as I can remember, recording life in writing has been central to my every day. From the age of six, when I was given my first green Lett's Brownie diary, I began to capture the images, experiences and characters I encountered with an insatiable curiosity. From early on, this journaling was accompanied by regular writing in small, coloured notebooks. Like so many writers, I still relish a shopping trip to a good stationer!
In this eclectic set of notebooks, I gather fragments, poems, stories and workshop writing that fill my burgeoning bookshelves. This private internal writing world, its mundanity, imaginings and its dramas have always helped me to navigate the external world. It's a place to catch the momentary flight of a new idea, a piece of dialogue, a fantasy.
Writing is a sanctuary, a container for reflection, imagination, for raw emotion, for trying things out. A few childhood poetry competition wins were the extent to which I tentatively explored sharing my writing before I started to make professional theatre in the late 1980s.
The many years of letting the pen flow were excellent practice for the discipline of writing to be shared. Training as an actor and creating new work for theatre meant that plays were my natural home and genre. I learnt quickly that anything written on the page had to come to life authentically when spoken out loud, in monologue or in dialogue, in internal or external voice. The gaps and spaces are as important as the words themselves; the mistress of pause and subtext is always present.
Every live performance of a play is experienced in the present time, most often lasting for just a couple of hours, regardless of the eons the story might travel through and the rich worlds it might take us to. Theatre has its roots in the ancients, the Greeks and Romans, shamanism, religion and ritual. The key ingredients of character, emotional arcs and conflicts are brought to life, embodied through the actors, sound, music, lighting and stage set.
In a compelling theatre piece, the audience members are transported into a state akin to trance, the suspension of disbelief, contributing their imagination and experience to the world they have stepped into. It is a communion in three parts: action by the actors, reaction from the audience and the co-reaction between them. When it works, we become consumed in the story.
Alongside creating theatre, I've had a parallel but connected interest in devising ceremonies. This may have its source in my Catholic upbringing, which instilled in me an innate generational history and language of high, often Latinate ritual with its acts of confession, communion and transubstantiation.
Despite my rejection of these formal structures, I felt the need for some form of creative alternative. This resulted in creating naming ceremonies for my daughters to mark these important thresholds where traditional christenings would have felt disingenuous. So, we hired a canal boat, a string quartet of itinerant musicians and we transported the babies down the river, stopping off for music, readings, and small symbolic actions executed by mentors (akin to godparents). We finished with a communal picnic and a wicker basket to collect the written and illustrated wishes for the lives of our children. I'm still referring to them to see how many have come to fruition. We're not doing too badly!
Fast forward to 2018, and after making over 60 pieces of theatre, I finally took the plunge to train as an independent civil celebrant in order to formalise a professional role in creating ceremonies. It's a natural arena to explore for a theatre maker and it was exciting to see how the skills and interests transferred.
Like theatre, a ceremony happens in real-time, taking an 'audience' through a series of meaningful acts that mark significant thresholds. It calls on sacred and familiar language, some recognisable and yet fresh. Unlike theatre, though, most life ceremonies only happen once, and each is unique in marking a particular rite of passage.
As in theatre, the ceremony-writing process involves researching the subject matter carefully. It requires accurate attention to the details of a person's life story, their values, the people and things that matter to them, the contradictions, the relationships, and often the dramas. There is an element of verbatim theatre here. But importantly, as with theatre, there's scope to read between the lines and find language to capture the essence, culture, feel and mood in order to pitch it appropriately.
A ceremony includes a large element of storytelling and creates a narrative arc that takes the 'audience' on a journey. In the case of a funeral, the sensitivity and nuance of the language is particularly critical and must creatively express and be aligned to the values and culture of the person who has died. Their body is usually present in the chapel and, as celebrants, we are charged with holding a space for the gathered mourners through the witnessing process. The words of formal recognition carry the magic and power of meaning, that bind and release, aiding and facilitating 'safe passage'.
Just as in a piece of the theatre, the delivery of the text is designed to modulate and integrate moments of tension and release. As before, the gaps and spaces are as important as the words themselves; the mistress of pause and subtext is always present.
As a creative practice, I find writing and crafting ceremonies an excellent discipline. There are certain criteria that demand attention. There is no space for procrastination when there really is an absolute 'dead' line. The duration of a ceremony is often prescribed at around 30 minutes, which determines the word count and encourages discipline.
The language needs to be appropriate and accessible and reflect its diverse audience, which develops writing with different voices and modalities. The ritualistic and symbolic elements are central to the process and the hope is that, after each ceremony, the attendees feel the catharsis so fundamental also to powerful theatre. My hope is always that they return to the quotidian world in a slightly different frame of mind, comforted and uplifted by the experience, thoughtful and reflective, and feeling that they know and understand a little more about the person being honoured.
© Carole Pluckrose, 2022
Read the latest issue of Write On! (13) magazine online here.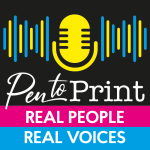 You can hear great new ideas, creative work and writing tips on Write On! Audio. Find us on all major podcast platforms, including Apple and Google Podcasts and Spotify. Type Pen to Print into your browser and look for our logo or find us on Anchor FM.
*****
If you or someone you know has been affected by issues covered in our pages, please see the relevant link below for ​information, advice and support​: https://pentoprint.org/about/advice-support/
The gaps and spaces are as important as the words themselves; the mistress of pause and subtext is always present.