Write On! Interviews: Author Emily Inkpen
Write On! interviews author Emily Inkpen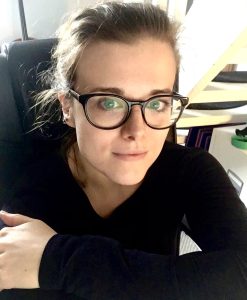 Emily is a science fiction novelist, poet, audio dramatist and general word nerd. She graduated from Glasgow University with First Class Honours in English Lit and dove headlong into a copywriting career for healthtech, before switching to medical writing for various pharmaceutical companies. Her interest in medicine, medical technology and the doctor/patient relationship has never waned and continues to influence her work.
Emily has recently switched to the gaming industry and writes marketing and in-game copy for Marmalade Game Studio. The rest of the time she runs the Social Media channels for the British Science Fiction Association (BSFA) and inhabits various worlds of her own creation.
WO: How would you describe your writing to someone new to it?
EI: I would say it's dark and political, with twisty characters who burrow into your head. Some of them you'll love, even though they test you. Some you'll hate unreservedly and for good reason. I build worlds that open up around you and become more complex as the story unfolds and I also delight in visceral descriptions.
WO: Can you tell us a bit about your latest project The Dex Legacy?
EI: The Dex Legacy is an Audio Drama set 11 years before the start of my debut novel, which is repped and currently in publisher submission. The story centres around an a-typical family unit: a weapons manufacturer-turned-state leader called Nathaniel Dex, his three adopted children: Varian, Isra and Ren, and his colleagues: Tristan Krail and the doctors Devek and Osa Srivastava. When Nathaniel adopted Varian, Isra and Ren he was looking to expand his munitions offering into human weapons. He gave them to Doctor Devek and they became his primary test subjects. The story is a gritty and unflinching look at the 'super soldier' concept, with a laser focus on the problematic side of their creation and the minds prepared to push research that far in three living specimens.
The audio drama is set when the main characters from the books are teenagers, and we get real insight into their early experiences, being raised by Nathaniel Dex and his associates. Season One is out now on all podcast platforms, and I'm currently working on Season Two.
Audio Drama is an amazing medium. It's adaptable and heavily collaborative on multiple fronts, so it's a very different experience compared to writing a novel. With the cast of actors – and we have a great cast – emotional significance is all in the delivery. With the amazing Alternative Stories production, the music and sound effects help the listener to build up an image in their minds, without the need for words at all, and this means the collaboration extends to the listener, as they become a part of the creative process right along with you. It's truly unique.
WO: What inspired you to write in the first place, and what inspires you now?
EI: I've always existed between the real world and worlds of my own creation. My parents called this an "overactive imagination" but now I'm older I don't think there's any such thing. People either experience the world we all inhabit, or they experience more, and experiencing more is a privilege.
Writing my worlds is my way of solidifying them. It's a case of organising thought and experience; a necessity rather than an indulgence. Imagine trying to carry too many limes (sure, like the meme) – writing is the process of creating a basket to carry them in. If I didn't do it, I'd be struggling to hold all the limes and I'd spend all my time trying not to drop any. It would be a living nightmare!
WO: The current issue of Write On! explores the theme 'Worlds Apart'. With that in mind, do you find yourself drawn towards writing about the world you know intimately, or do you strive to discover a world unknown?
EI: For me, unknown worlds are the best. There's something about the process of crafting a reality out of nothing that really excites me. I mean, sure, you can say a person walked to the top of Primrose Hill and looked out over London, and many people will be able to picture it immediately. But when you can achieve the same thing in a world no one's seen except for you… that's when it gets exciting.
The world of SP714, on which my novel and audio drama are set, was colonised by settlers from Earth 1500 years before the story starts. In The Dex Legacy I play with what's familiar to the reader and what isn't; with what the humans have made, and what they've inherited from the alien world they're living on. I play with this in the naming of things, too. Just as in the USA, where settlers used familiar names for new places, such as Birmingham, Manchester, (New) York, (New) Jersey, (New) Orleans, so on SP714 some Earth names have carried across. They call the flying lizard-like creatures 'birds', because the settlers couldn't think of another name for them. The flat, hollow, scaley plates that cover their wings are called 'feathers', but they're nothing like Earth feathers. Having a character watching a flock of birds circling a tree, the sunlight glinting on their plated, leathery wings… this slightly alien description of something familiar is enough to remind a reader that they're on an another world, and it's fun to slide these twists in throughout the narrative.
WO: What one piece of advice would you give an aspiring writer?
EI: Put your characters first, always, and give them a LOT of context. The more you know them, the more solid they'll be to you as a writer, and to the reader. What they notice about the world might not be what you would notice about the world. You're writing them, not you, and knowing them will help you direct your writing and keep it consistent.
WO: Question from Twitter user: @clairebuckle: Do you base your characters on real people?
EI: Not directly. My characters are a cocktail of the people I've known and characters I've read and watched… and imagined. As writers, we're 'experience harvesters'. We consume everything we see and do and what comes out is different and intrinsically ours. The problem with basing a character on someone you know is that you'll never know a real person well enough. When you're writing a character, you need to crawl inside their head and live their experiences. You simply can't get that close to a person who already lives and breathes. It would be creepy to try!
WO: Can you tell us anything about future projects?
EI: I'm currently working on Season 2 of The Dex Legacy audio drama and I'm starting work on my next novel, which will be set on a different world altogether (although I am definitely not done with SP714)!
WO: Lastly, if you could choose one fictional animal/creature to be a pet or companion, what would it be and why?
EI:  I'd say a dragon, because that would be amazing. But my spouse can't stand reptiles and has threatened to divorce me if I ever got one… and, so far, I've not seen fit to test that. So I'm going to say a Totoro. A Totoro would be pretty chill, it would help my garden to grow, and it would give me unexpected magic when I need it most, which would be neat!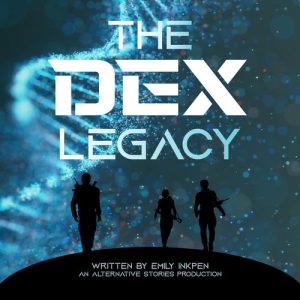 You can find out more about Emily Inkpen at www.emilyinkpen.com and The Dex Legacy audio drama at www.thedexlegacy.com. You can also connect with her on Twitter @emilyinkpen. The Dex Legacy is free to listen to on all podcast platforms. Direct links can be found here: https://www.buzzsprout.com/1868546.
*****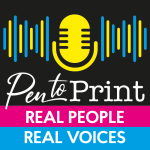 Issue 13 of  Write On! magazine is available now. You can find it here. 
Each edition of our Write On! Audio podcast features an exclusive interview. Find us on all major podcast platforms, including Apple and Google Podcasts and Spotify. Type Pen to Print into your browser and look for our logo or find us on Anchor FM.
*****
If you or someone you know has been affected by issues covered in our pages, please see the relevant link below for ​information, advice and support​: https://pentoprint.org/about/advice-support/
As writers, we're 'experience harvesters'. We consume everything we see and do and what comes out is different and intrinsically ours.