Write On! Features: Re-Evaluating Our Creativity by the Write On! Team
By Claire Buss
As the end of 2022 draws nigh, our thoughts turn to the things we have achieved in the past year as well as the things we didn't, which in turn fuels our plans for the year about to begin. A cyclical process that many of us are extremely familiar with. Things like "Be More Organised" and "Eat Fewer Takeaways" are items that show up regularly on my proverbial list, but I was more interested in what my peers had to say about their creative years – especially as I've not done so well with mine!
Oddly enough, I was extremely productive in 2021 as we eventually eased out of lockdown and everything that came with it. Therefore, I expected to be equally productive the following year. I had just written and released two books in my humorous fantasy series and I could easily write and release another two – couldn't I? Turns out I was wrong. Instead, the enormity of everything we went through as a nation, as a family, and as an individual, caught up with me and my creativity ebbed away.
I was able to live vicariously – or should that be creatively – through the wonderful imaginative work of my Write On! peers and the people who have submitted a huge variety of beautiful words and imagery to Write On! each week.
What, then, will be my plan for 2023? I'm not sure; being too nervous to set myself too difficult a goal to achieve while at the same time not giving myself a big enough goal to strive for. I may need to cogitate about this over several mince pies.
Clare Cooper has some words of wisdom I'm sure many of us will resonate with:
My Writing Achievements In 2022 And Goals For 2023  – Or, Why I'm Not Progressing Very Far…
Right! That novel isn't going to write itself, and what if someone else comes up with the same idea and gets it out there first?
Ping!
Ooh, a new notification on Facebook!
Half an hour later…
Right! Straight upstairs to do a bit of writing.
Ping!
Ooh, an email. It might be important.
Half an hour later…
Right! What's the time? Better get on.
Ping!
Your package will be delivered today between 10-2pm. Will you be in?
Yes, 'cos I'm planning on writing my novel. (That sounded good!)
Ping!
You have new notifications from that cosmetics company you read about in a magazine the other day and started following.
Ooh, good! They do some really nice stuff, and not too pricey. I'm running out of face oil. Might as well order some as I'm on their page right now. I'll just check out the reviews first.
An hour later…
Ping!
I've just been sent a rude WhatsApp video. I must share it. It's SO funny!
Half an hour later…
What's the time? Good grief, where does it go?! I'd better get upstairs, quick.
Ping!
Someone wants to connect with me on LinkedIn. That's nice. Never heard of them, but we appear to have 50 connections in common, so what the heck? Perhaps they'll be able to help me publish my novel.
Ping!
Your package has successfully been delivered.
Blast! Now I've got to go downstairs again, just as I was about to get going.
Half an hour later…
Ping!
That woman I follow on Twitter has just retweeted something. Must look at it, then I'd better look at the original tweet they're referring to and read everybody's comments, just so's I'm up to speed with what's going on in the world.
Buzz, buzz!
Yes, that's me. The homeowner. No, thank you, I'm not looking to change my energy supplier right now. Or my mortgage company. No, I don't need my loft lagging, or new double-glazing. No, I don't have time to do your online survey about how I rated my shopping experience with your store yesterday. I'M VERY BUSY!
Right! Now then… Ooh… I wonder if anyone liked those pics I put on Insta last night? Nope, not yet. Sigh. I'll never become an influencer at this rate.
I'll just check Twitter out; see if anyone has liked or commented on my comment on that woman's post.
Good grief, that girl is always on there – she needs to get herself a life!
Half an hour later…
Ping!
What's this? I'm a fashion stylist, and these are my top five easy pieces for your winter wardrobe. I could certainly do with a few new things. I'll just check this out.
Ping!
Ooh, a new notification on Facebook. Better just quickly look at that first. I forgot to share my memories, this morning. What am I like?! Must do that now, while I'm thinking of it.
Half an hour later…
Wonder how many steps I've done so far today? All this running up and down stairs must have amounted to… oh… 150. OK.
Time to get on. My characters will be wondering where I am. I have to move the story on, somehow, but I'm not sure how. Maybe a bit of google research will help.
An hour later…
Nope. No help at all. Oh well, I'd better write something – anything – or the morning will have been wasted and I do so hate being unproductive!
Although, I still have a few blogs to tidy up and post. Perhaps I should focus on those instead? I enjoy putting my thoughts out there, even if nobody reads them. I'll just have to become famous in some way, then loads of people will hang on my every word.
Maybe my novel will propel me to instant fame and fortune, and I'll be invited to join quiz panels, game shows and Strictly. Which pro dancer would I choose, though?
Half an hour later…
Ping!
Ooh, look. Write On! are asking for a piece on my writing achievements for this year and my goals for next. That'll be fun! I wonder how everyone else has got on?
(c) Clare Cooper, 2022
*****
Two of our regular contributors, Patsy Middleton and Mary Walsh, have both had physical accidents to overcome this past year. This is what they had to say:
As some may know, I had an accident in August 2021, which has left me unable to walk much, although I am slowly improving.
I spend most of my time reclining on the settee in the living room, which is an excellent opportunity to catch up on my writing. I have finished the last book in the St Vere Saga and am now editing another book set in Multyfarnham in Southern Ireland. It still has the St Vere theme as the hero, Orin, is six generations on from Edmond St Vere – the hero of the first book.
I have also written several short stories and poems. 
What I would do if I didn't have writing, I don't know, as there is only so much TV one can watch.
For next year, I plan to continue writing stories that come to me as I try to go to sleep on the aforementioned settee; luckily, it's a recliner, as I can't get up the stairs.
(c) Patsy Middleton, 2022
My Creative Goals This Year…
As a finalist in the Pen to Print Book Challenge, my first novel was published, Detective Armando Ramirez And The Iberico Ham Murders, after a year of mentoring by Barbara Nadel, author of the Detective Ickmen series of novels. An achievement I still have to pinch myself to believe sometimes.
I've written articles for Write On! Magazine, including The Big Debate and Destination Barking & Dagenham. I'm proud to have tried my hand at this and subsequently developed new confidence.
I also interviewed Erin Kelly, author of Watch Her Fall and We Know, You Know for Write On! online. This was an experience that seriously took me out of my comfort zone. Many frantic calls to our editor Madeleine followed until, eventually, it was complete. This is an achievement I am particularly proud of; I guess because I found it so challenging.
I went on a week-long writing retreat to Margate with the wonderful Claire Steele and Carole Pluckrose. It was a fantastic experience and one I would thoroughly recommend. It gave me the chance to be a writer without the distractions of home life. Four hours writing a day and walks and fresh air and the company of other writers – marvellous! These can be quite costly sometimes, but if you can afford to go, do.
And all the while I've been writing, writing, writing poems. Getting some published by the Royal Society of Literature's Write Across London Poetry Map, on VisualVerse.org, and with Pen to Print and Write On! of course.
My Goals For 2023…
Planning Armando Ramirez book two.
Collating a collection of poetry for publication.
Thanks to breaking my shoulder… learning to type left-handed, one letter at a time.
And taking this incredible writing journey further and with a little more confidence.
My Motto…
J F D I = JUST FLIPPIN' DO IT!
(c) Mary Walsh, 2022
*****
I'm so impressed by both Patsy and Mary's attitude to not letting anything get in the way of their writing; it makes my dithering look rather feeble. Indeed, another regular contributor and, in fact, December's creative writing Showcase editor, Julie Dexter, also shared her inspiring writing goals, which definitely stirred the motivational pot a little more. Here's what Julie had to say:
At the beginning of this year, I realised the need for a dedicated writing space to work in. So I vowed to save up to be able to afford to move house to be with my three-year-long -suffering fiancé. Luckily, the move came sooner than we imagined when we fell in love with a house by the sea at Herne Bay. That was April and we have been here now for four months. I suppose this has in itself been an achievement, as everywhere and everything seemed so different from Barking and Dagenham!
My writing desk had to be reassembled, and it has taken some time for the new view and location to finally become home. Having moved from an upstairs writing spot in my bedroom in Barking to a room all of my own that I can call a study, albeit downstairs, took some getting used to. But it's great: all spread out and TWO bookcases full of books!
I'd have thought the location wouldn't have mattered that much at all. After all, when you are writing, you have your head down. Except you don't. The ideas and thoughts come in a matter of seconds, or weeks, quite often when you are doing anything other than sitting at your desk.
It was only today that I finally realised I have yielded to the new yoga classes, to the new route to work, to the new supermarket, Aldi not Lidl. And the one thing that has truly sustained me is the writers' publication, Write On! from Pen to Print. Having contact with everyone at Write On! and Pen to Print is of the most enormous value.
I have submitted to Write On! a few times this year. Next year, I intend to do better. But a genuine achievement for me is being a page editor for the creative writing Showcase for Write On! online for December 2022. You can see my Showcases here: pentoprint.org/writeon-showcase.
Plans for next year include shaking the dust off a novel in progress. Its themes now are more current than when I started it back in 2000. I need a mentor, or a whip to spur me on! The problem with it is that the chapters that are already in place are like slabs that have been lain for years – excavating them is going to prove difficult. When you move one thing, another thing needs to shift as one turning point leads to the next event. Still, if I am to achieve my dreams, completed it will have to be!
(c) Julie Dexter, 2022
*****
Best of luck with your novel, Julie! Obviously, everyone at Write On! and Pen to Print are here to help, support and encourage where we can. I completely understand your need for a mentor/kick up the caboose. I, too, have a partially completed novel languishing in much the same situation – it requires a semi-rewrite and I just can't face going through and catching all the changes that need to be done. My crit group pointed out the issue and while, at the time, I ranted and railed about it; they were right and the work needs doing. At some point, I hope to gather the gumption to just get on with it.
Some of our newer team members, Irina Goncherenko and Liliana Hristova, otherwise known as BooksByMILE had this to say about their exciting plans:
It is incredible what we have achieved in 2022. We have written and published our third story about Turtle Arty, Arty's Eastbrookend Adventures, and now have a Sculpture Trail based on our book characters installed in Eastbrookend Country Park. The latter was made possible by working together with the artist Alexantra Starczewska, Gareth Winn and his park rangers team, and a talented chainsaw artist, Raymond Wirick. We also created an activity book, activity pack and designed the concept of the sculpture trail in a way to allow for a more immersive experience.
We had our very first book tour organised by Pen to Print, visiting local libraries. Write On! has given us an amazing opportunity to be part of the writers' team, which we have embraced with open arms.
Our involvement in community projects has expanded in 2022 and we have supported individuals and local organisations making a positive difference in our community.
As individuals, we both took part in BD Giving CSG drafting a community-led investment policy, which was launched in the House of Commons in June 2022.
Overall, 2022 has been a year of dreams coming true, growth, meaningful and quality time spent with family, and a sense of achievement and pride.
Our aspiration for the next year is to continue to learn, grow and support local organisations and individuals, expand our horizons into publishing community and individual stories, as well as developing our 'Young Story Creators Club'.
(c) BooksByMILE, 2022
*****
It's amazing to look back and see what has been accomplished in just one year, but our feature wouldn't be complete without the last word from Pen to Print and Lisa Rouiller:
"I'm so pleased we fulfilled another year of planning some great workshops and events for writers of all genres and levels. This year was very different, swapping online-only to hybrid events. My creative gain is always seeing someone else reach theirs; for example, publishing a book, submitting creative work and getting a chance to be heard through Write On! Knowing writers who have gone on to create and deliver workshops to interviewing other authors and creatives, gives me a great sense of achievement.
2023 will be the start of new plans for Pen to Print. Our activity will be directed at writers, giving them the confidence to submit work to other writing organisations."
*****
I hope our feature encourages you to take a look back at what you achieved creatively in 2022, what did or didn't quite work out and what you hope to tackle next year. We wish you the very best of luck in all your creative endeavours and from all of us to all of you – Happy New Year!
*****
Read the latest issue of Write On! (15) magazine online here.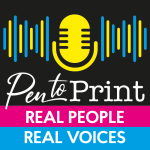 You can hear great new ideas, creative work and writing tips on Write On! Audio. Find us on all major podcast platforms, including Apple and Google Podcasts and Spotify. Type Pen to Print into your browser and look for our logo or find us on Anchor FM.
*****
If you or someone you know has been affected by issues covered in our pages, please see the relevant link below for ​information, advice and support​: https://pentoprint.org/about/advice-support/
We wish you the very best of luck in all your creative endeavours and from all of us to all of you - Happy New Year!