Write On! Features: Terrorism, Spying And Diplomacy – How My Istanbul Thriller Was Born by Leigh Turner
By Leigh Turner
Water glistened on the cormorant's wings as it plunged into the Bosphorus. Beyond, a Russian warship headed through the strait, followed by a rust-streaked Ukrainian grain carrier. Far off, the Byzantine walls of Istanbul rose around the 6th Century Haghia Sophia and mosques built after the 1453 Ottoman conquest.
I knew I must write a thriller set here.
It's well known that everyone has a novel inside them – and, in most cases, that's where it should stay! When you're a diplomat, posted to different countries to grapple with international crises, counter-terrorism and hostile espionage environments, it's tempting to draw on that experience for fiction.
But what link exists between diplomacy and literature? How did I get not one, but two books published within a year of my retirement: my Istanbul thriller, Palladium, from Immortal Works in May 2023, and The Hitchhiker's Guide To Diplomacy, from Czernin Verlag in spring 2023?
It all began one evening in Vienna in 1986, when I arranged to meet my girlfriend to see a movie. I had recently suffered humiliation when a friend said that, because of my chronic lateness, he always invited me half an hour earlier than other guests. The shock therapy worked; I arrived early for my date, at a café on the Ringstrasse.
My girlfriend was not there.
I had nothing to read. Mobile phones did not exist. The thought of sitting idle filled me with panic. The embassy had recently acquired its first word processor and I imagined, wrongly, that it might make writing a novel easier. Perhaps I could devise a plot while I waited?
What if, I thought, in a future, hyper-capitalist world, you could sell your own life-expectancy, or buy someone else's? How would that affect politics, international relations and relationships? Would the ultra-rich try to buy up cheap lifetimes in poorer nations? Some countries might ban the new technology. The new technology would lead to a tsunami of novel crime.
Suppose my hero was a detective, investigating such a crime?
By the time my girlfriend arrived, I had mapped out what would become my speculative comedy-thriller, Eternal Life. The climax takes place in Vienna, with one scene at a café on the Ringstrasse.
Diplomacy delivered rich material for fiction. From 1992 to 1995, as First Secretary (Economic) at the British Embassy in Boris Yeltsin's corrupt, chaotic Russia, I met dodgy bankers, hard-up scientists and muscular providers of 'insurance' services. One businessman showed me the Makarov pistol he carried for his protection; three weeks later, he was shot dead. Ruth Dudley Edwards gave me the classic advice to "write what you know". The result was my first pure thriller, The Skip Outside The Lenin Museum. Still unpublished, Skip provides back story and characters for my later thrillers, Blood Summit and Palladium.
I found it gruelling, combining a busy diplomatic career with writing. Sometimes, I got up at five am to write before going to work. More often, I would stay up until two or three am. But no breakthrough came.
One key piece of advice for wannabe authors is "don't give up the day job". But in 2002, after four years in Bonn and Berlin as Counsellor (EU and Economic), I was privileged to take four years' parental leave when my partner, also a diplomat, took over my job in Berlin. I wrote for the Weekend FT on sexual politics and travel and crafted a new novel, Sex And The Summit, a Foreign Office comedy.
No one bought it. The 23rd literary agent I tried, David Grossman, said I wrote well, but the book would be hard to sell. Why didn't I write a thriller set in Berlin?
I'd long been fascinated by the German capital, with its tragic 20th-century history of genocide, war-time destruction and cold-war division. When a friend showed me around the tunnels under the newly-reconstructed Reichstag, the seat of the German Parliament, I thought, 'That's my new novel.'
Architect Norman Foster sought to combine a 19th-century stone monolith, scarred by bombing and Soviet graffiti from 1945, with democratic symbols of transparency and openness. But could you have a building that was both open and secure? The result was my visceral Berlin thriller, Blood Summit, about political leaders taken hostage by terrorists in the Reichstag.
Despite David's best efforts, we couldn't sell Blood Summit, either.
Did anyone say it was easy getting a book published?
In 2008, I travelled to Kyiv as British Ambassador to Ukraine. The huge country lodged between Russia and the EU felt febrile and vulnerable; its relationship with Russia, the UK and other nations, existential. Some Ukrainian friends didn't like my 2012 novel, A Killing In Sevastopol, based on a crisis between Russia and Ukraine over Crimea, because it included some well-intentioned Russians. "You're naive," they said. "You'll see."
They were right. I never sold the book, and when Russia invaded Crimea in 2014, the plot was overtaken.
In Kyiv, I met my partner, Gözde, a hotel general manager. She told me tales of what men get up to in hotels. As her birthday approached, stumped for a worthy gift, I decided to write her a story: about Ms N, a petite hotelier who won't put up with men behaving badly in her hotels, and her faithful sidekick, Tatiana. Gözde loved The Two Rooms, and encouraged me to repeat the exercise. So far, there are 11 hotel stories.
Meanwhile, big things were happening in publishing. Amazon burst onto the scene, flattening bookshops but also easing the way to authors publishing their own books online. Blogging and social media proliferated. I began blogging as an ambassador in 2009. In 2013, I self-published The Two Rooms on Amazon. In 2014, I began my own private blog. I used a pseudonym, Robert Pimm, to avoid any suggestion I was misusing my diplomatic position to promote my books.
Rightly, or (in my view) wrongly, the Foreign Office remained sensitive about my fiction. They threatened that if a novel brought the FCO[1] into disrepute, I would face disciplinary action. I thought my novels showed the FCO in a terrific light: staffed by a diverse bunch of real people, rather than stuffed shirts, dealing with tough, real-world issues that make a difference to people's lives.
In 2011, I visited Istanbul ahead of applying for a job there as British Consul-General. The beauty and history of the city knocked my socks off. When I moved there in 2012, I began writing the book that was to become Palladium.
What, I thought, if an archaeologist, racing to excavate a site ahead of the construction of a new skyscraper, dug up an ancient relic that played into contemporary fears? Might the novel flash back to historic events? What if people believed the relic protected the city from harm? What catastrophe might threaten?
With the help of friends in Istanbul, I came up with a terrific idea for a cataclysmic threat, and got cracking on a white-knuckle ride to save a great city from destruction.
"Wait!" I hear you cry. "You mean it took ten years to get Palladium published?"
Dear readers, writing and revising a novel can take any amount of time. Here's a timeline:
2011: Inspiration strikes on a visit to Istanbul.
2012: I explore the city and bookmark websites such as 'Palladium: Classical Antiquity', 'Byzantine Constantinople', 'Hellenism: Religion', 'US archaeology student found dead in Turkey' and 'Building frenzy devours Turkish archaeological legacy'.
2013: The Gezi Park protests explode in Istanbul. Disturbances and tear-gas engulf the area I live, making my life particularly busy and slowing my writing efforts.
2014: A first draft of the novel, then titled Istanbul Rising, is complete.
2015: I submit Istanbul Rising to 20 agents and publishers without success. As any of you authors out there know who have tried it, this is a dispiriting business when unsuccessful. I devote my efforts to a new comedy thriller.
2016-17: Istanbul Rising slumbers.
2017: I self-publish Blood Summit as a paperback – my first real book on Amazon. Sales are encouraging; particularly when backed by readings.
2018: I attend an Arvon writing course, 'Editing Fiction: Turning First Drafts Into Publishable Books'. We are asked to bring a manuscript: I take Istanbul Rising. I get valuable feedback and make lifelong friends. I change the title to Palladium.
2019: I self-publish Seven Hotel Stories on Amazon. Again, it does OK. Having two tangible books for sale boosts interest in my writing. I organise, and enjoy, readings and book signings and use my blog to promote the books.
2020: I submit a new draft of Palladium to 20 more agents and publishers. No one bites. But a friend tells me about #pitmad, a Twitter event for authors to pitch to publishers. I try it. Staci Olson, an acquisition editor for Immortal Works, a US publisher, asks to see the first five pages of Palladium.
2021: after some valuable editorial input from Immortal Works, I sign a publishing contract for Palladium. Publication is set for 17 May 2022. The welcome letter notes, It's never too early to start promoting your book.
Eighteen months later, I retire from the diplomatic service. I celebrate by publishing Eternal Life – my first book under my own name. Benedikt Föger of Czernin Verlag, an Austrian publisher, invites me to discuss writing a book. He has a title: The Hitchhiker's Guide To Diplomacy. We sign a contract for publication in spring 2023.
What conclusions can you draw from all this? Here are a few:
Perseverance is everything. It's tough sending your work to publishers and agents and having it repeatedly rejected. Keep writing and keep sending your stuff out.
The more irons you have in the fire, the likelier it is that one of them will get warm. Something you wrote a while ago may yet come to life.
Writing courses and writing groups are a great way to gain inspiration and meet interesting friends and contacts.
I'm also a fan of guides to writing and getting published. But keep a balance between the admin and actually writing new material. The latter, ultimately, is what it's all about!
For more writing tips, including reviews of writing courses, and about my books, see my rleighturner.com website. And please, please, take a look at my new Istanbul thriller, Palladium!
[1] Currently called the FCDO.
*****
Read the latest issue of Write On! (12) magazine online here.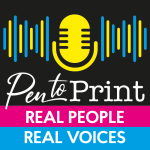 You can hear great new ideas, creative work and writing tips on Write On! Audio. Find us on all major podcast platforms, including Apple and Google Podcasts and Spotify. Type Pen to Print into your browser and look for our logo or find us on Anchor FM.
"Wait!" I hear you cry. "You mean it took ten years to get Palladium published?" Dear readers, writing and revising a novel can take any amount of time.