Write On! Interviews: Author Stuart Wakefield
Write On! interviews author Stuart Wakefield.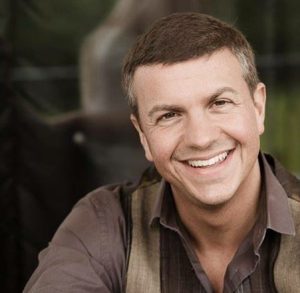 Stuart holds an MA (Distinction) in Professional Writing, and his debut novel, Body Of Water, was one of ten books long-listed for the Polari First Book Prize.
His latest book, Behind The Seams, reached the 2021 BookLife Prize Fiction Contest semi-finals.
He is a lifelong superhero nerd and a devoted action figure collector.
WO: How would you describe your writing to someone new to it?
SW: It's very British. Snappy dialogue and a diverse range of characters. I've moved away from fantasy with gay characters to contemporary gay romance with splashes of Jilly Cooper and Victoria Wood.
 WO: Can you tell us a bit about your latest book, Behind The Seams?
 SW: At its heart, it's about two men who fall in love during the making of a fashion design reality TV show. They first meet at their auditions and things develop from there. Kit is a Savile Row tailor from Newcastle and Barker is just about to graduate from university with a fashion design degree. They are wildly different men thrown together in the chaos of stressful challenges and constant filming. I had so much fun writing it; it didn't feel like work at all!
WO: What inspired you to write in the first place, and what inspires you now?
SW: Jilly Cooper! I remember the first time I read Riders — I was in my teens — and I could see everyone so vividly. My writing career didn't start until 2009. Up to that point, I'd worked as a semi-professional actor and designer. I had a breakdown in 2003 and never set foot on stage again. Six years later, my creativity exploded onto the page instead of the stage. Now, I'm inspired by quality gay fiction like Patrick Marber's A Place Called Winter, Tomasz Jedrowski's Swimming In The Dark, and — you guessed it — André Aciman's Call Me By Your Name. On TV, it's Project Runway, Making The Cut, and Next In Fashion.
WO: The recent issue of Write On! explores the theme 'Nature, Inspiring Creativity: Past, Present And Future'. With that in mind, how has nature had a direct impact on your inspiration? Are there any particular pieces of art or creative works based in nature that spark ideas for you whenever you experience them?
SW: Because Behind The Seams and its forthcoming spin-offs are all based in and around the broadcast media and fashion industry, I look to fashion design TV shows and great fashion design for inspiration. Alexander McQueen's Spring/Summer shows in both 2009 and 2010 were inspired by Charles Darwin's Origin Of The Species and Underwater Species, respectively. If I can see brilliant design, all the surrounding characters inspire a story.
WO: What one piece of advice would you give an aspiring writer?
SW: My most popular blog post is How To Create A Realistic, Relatable Main Character For Your Romance Novel and that sums it up. Build your characters and build their backstories. You can have the best plot in the world, but if your characters aren't relatable, readers won't care about your plot. I see it with my coaching clients all the time; they come to me with great plots but haven't done the character work. My formula is characters + plot = story. If you dropped Lara Croft into Pride And Prejudice, you'd have a very different story.
WO: Question from Twitter user @Grasshopper2407: How many unpublished and unfinished books do you have?
SW: Six! I've finally realised that switching projects not only slows me down, but it's procrastination. Now, I only work on one book at a time. The odd thing is, I also write a different genre under a pen name, and I have no issue getting those books out one by one — and there are 19 of those! Under my name, it's five published and six in progress. Strange, eh?
WO: Can you tell us anything about future projects?
SW: How long have you got? My next novel is Model Behaviour, about a male model who falls in love with the man who scouted him. After that, it's Hidden In The Sand, about a Turkish Cypriot who falls in love with a Greek Cypriot in 1974 Cyprus just before Turkey invades. Masterpiece, about an art lecturer who falls in love with a student. Off Camera, about an ageing porn star who falls in love with an up-and-coming (pun intended) star. Mixed Signals, about a graduate who's tasked with launching a gay TV channel and falls in love with a colleague. Finally, Out In The Cold, about a rancher who falls in love with a ranch hand while they're snowed in (I know it's a trope, but it's a trope I love). Wow, that's a lot of books in the pipeline…
WO: Lastly, if you could choose one fictional animal/creature to be a pet or companion, who would it be and why?
SW: Can I be cheeky and go with Teddy from the A.I. Artificial Intelligence movie? He's a robot, sure, but he's also a bear.
*****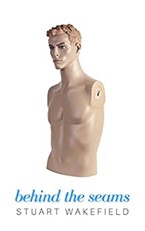 You can find out more about Stuart Wakefield here: stuartwakefield.info or:  thebookcoach.co.uk and/or connect with him on Instagram: @misterswakefield.  Behind The Seams is available to buy from: amzn.to/3KqsEFa.
*****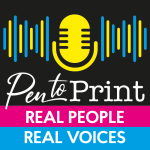 Issue 12 of  Write On! magazine is available now. You can find it here. 
Each edition of our Write On! Audio podcast features an exclusive interview. Find us on all major podcast platforms, including Apple and Google Podcasts and Spotify. Type Pen to Print into your browser and look for our logo or find us on Anchor FM.
My formula is characters + plot = story. If you dropped Lara Croft into Pride And Prejudice, you'd have a very different story.