Write On! Features: Working With Children by Irina Goncherenko
By Irina Goncherenko
(A children's writer and facilitator at early years playgroup. Mother of three. Youngest child: two years old.)
"How do you do it? How do you work with the kids and have time for everything?"
That's the question I've often received in the last couple of years.
The truth is – I don't. I don't have time for everything.
Sometimes I joke, saying the more kids I have, the more things I do. When I didn't have kids, I barely had time for anything apart from my office job. When I gave birth to my first child, I became involved in mothers' groups and together with another mum organised a Russian-speaking activity group for kids aged under five. With my second child, I found myself busy writing children's stories and running two businesses. Now, I have three kids and run two companies, I'm a published author and am also involved in a few community projects. An installation of Arty's Sculpture Trail in Eastbrookend Country Park, based on the third book we've published, Arty's Eastbrookend Adventures, was my brightest moment of 2022.
It's an overwhelming feeling to recognise everything I've done so far. I'm not sure I've stopped, even for a second, during almost nine years of motherhood to take time to appreciate everything I've accomplished. So, do I have time for everything? The answer is no. I find time for the things that matter at this moment and are interesting to me; things I love and am passionate about. For example, I don't love housework, so piles of laundry and washing up are quite often left. I'm not worried if I don't have time to catch up with social media. However, I do enjoy family moments, seeing friends, writing and community work, helping people and seeing the results of that work.
My latest project, together with my wonderful co-author and friend, Liliana Hristova, was our third published book about Turtle Arty and the sculpture trail based on that story. Thinking of it now, it's absolutely amazing what we've achieved in just over nine months – the same time a woman carries and gives birth to a baby! That's how it feels, when you work on something close to your heart.
These activities included starting our collaboration with Gareth Winn and his Park Rangers team at Eastbrookend Country Park, to create Arty's Sculpture Trail. We've also written a story and designed the book. Together with talented artist Alexandra Starsczewska and digital designer Vasilia Dimitrova, we've designed and published Arty's Sculpture Trail Activity book and pack. Additionally, we've come up with the idea of a fantastic Explorer Bag, which was made by local organisation, the 'Sew London Project'. So much of this was achieved while managing our family lives and other commitments!
The support of our husbands and kids was fantastic! The children were involved in the whole process from the very beginning and it was beautiful to see the way they were not only occupied and engaged, but also forgiving – giving us the time to work out the details, as they knew exactly what we were doing.
On numerous occasions, we asked our children's advice and implemented their ideas. Kids have become a great part of our Arty project. Creating Arty's Eastbrookend Adventures book and working on Arty's Sculpture Trail together with our children was amazing. We walked along the paths in the park and discussed where the sculptures should be. Painted the scenes in the air, imagined the characters coming to life and jumping out of the bushes, and dreamt of other adventures for them to explore. What a perfect bonding time we had! To see our little ones' excitement and the way they were inspired was unbelievable. It was worth all the hard work and (maybe some) sleepless nights.
Collaborating with our children helped all of us recognise and encourage individual strengths, whether it was the digital side of a book creation, or the types of illustrations and making up a handwritten draft of their own stories. Some were eager to come up with trail ideas and others preferred sorting out and meticulously organising the files.
At the time of writing the third book, my kids were eight, six and two years old. I believe when working with children, it's important to take into account their age, the job's requirements and the time you have. There are many different situations and a lot depends on your child's character, your routine and the type of work you're doing. I would like to share what works for me and, hopefully, it might help someone find this tricky balance between looking after kids and working.
Knowing I have an important Zoom call during the day, I set aside time just before, to focus on my two-year-old completely. We go for a walk, or dance around the house, taking out paints and creating some messy monsters. I know all of that will tire her out, and also know that, having '100% Mummy' for a whole hour will give her reassurance. So, when my Zoom meeting starts, she'll be able to do some quiet puzzles herself, or play with books and other toys.
I call my youngest "my little business lady", as I've taken her with me to official meetings since she was a baby. She slept in my arms, ate and played, or just looked around. She became used to conference rooms and long hours of meetings to the extent she'd comfortably draw funny faces on post-it notes and raise her hand in agreement with other participants in the room. I used to take a massive bag of toys to ensure she was engaged for the whole of the two-hour conversation. There were puzzles and books, colouring sheets and crayons, play-doh and soft toys, keeping her occupied and entertaining the others as well.
Of course, there are difficulties in working with your children. You have to work only within the hours they allow you to, or divide your time into periods of five minutes here and five minutes there. Kids always choose the best moment to scream in your face while you're on a serious phone call, or jump in front of you while you're in a Zoom meeting.
Here are some tips I put together that helped me to work with my children:
Kids are always happy to help with your workload. Let them be involved, according to their age and your work.
Example 1. When I'm leading a playgroup, my eight-year-old is always happy to look after toddlers (as long as it's not her own brother or sister!) and play with them.
Example 2. When I need to type a report, I give my two-year-old child a calculator to 'work out' her own results.
Be ready to work whenever you can.
If you're not really a routine person, then you never know when the best time for work will come. Be flexible. Your little one might want to have a nap at 12 or two pm. Whenever it is, however, kids' nap time = your work time. Not washing up time, not laundry time. Set aside time for work first, then do the chores.
If it works for you, try to wake up an hour earlier than the kids. That truly helps. Mine used to wake up with me. I've tried seven am, six am, and even five am. I was almost ready to give up. However, after a while, the kids' morning routine settled, and I claimed my early hour. I was pleasantly surprised at the amount of work I could do when there were no distractions and my head was fresh and clear.
Involve kids in your work.
Tell them stories about work, and explain what you're doing in simple terms. Give them tools to role-play. Use play-doh to make things. Get a bunny to play a customer, or send Peppa Pig for an adventure to your imaginary office. Make cardboard toys to save on the costs.
Win your free time through play.
If you need five minutes of silence, then give your child ten minutes of active play. That trick has worked so often for me! You give your child undivided attention for 15 minutes, actively playing, and then gently moving to your table when you feel the child is playing by themselves. Voilà! You have ten minutes of peace. Yes, there is a downside. You need to learn to concentrate quickly in a short period of time.
Be relaxed. Don't be afraid to take your child into work with you.
Of course, only if it's safe to do so. My experience is based on being self-employed, and much of my work involves working with communities.
Combining work and children isn't easy. However, it's not impossible and, although it's true I find myself sometimes counting my breaths to get my head around everything I need to do, it doesn't stop me from doing what I love.
As our character, Turtle Arty, says in the book Arty's Portrait: You never know how good you are at something until you give it a true try. That's what I did. Just went for it; pursuing the dream of becoming a published children's author, even though I had other jobs and kids full-time at home.
It's also worth remembering the fantastic upside to being involved in working together with your child. From an early age, children get to know your 'adult work world', connecting with you on a different level and appreciating the meaning of work. You yourself see them developing new skills, and get to share unique memories and connections.
(Even when I'm typing this last sentence with one hand and drawing a monster with the other!)
*****
You can connect with Irina on Instagram: @irina_goncherenko and with BooksbyMILE here: www.booksbymile.co.uk
*****
Read the latest issue of Write On! (15) magazine online here.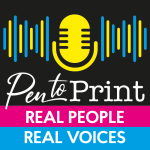 You can hear great new ideas, creative work and writing tips on Write On! Audio. Find us on all major podcast platforms, including Apple and Google Podcasts and Spotify. Type Pen to Print into your browser and look for our logo or find us on Anchor FM.
*****
If you or someone you know has been affected by issues covered in our pages, please see the relevant link below for ​information, advice and support​: https://pentoprint.org/about/advice-support/
I find time for the things that matter at this moment and are interesting to me; things I love and am passionate about.