Write On! Interviews: Author Deirdre Cartmill
Write On! interviews Author Deirdre Cartmill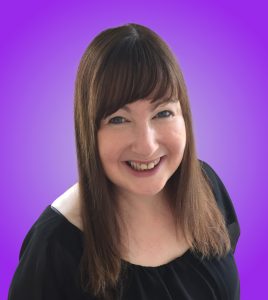 Deirdre is an award-winning Northern Irish writer. Her third poetry collection, The Wind Stills To Listen, was published by Arlen House in 2023. Her two previous collections are The Return Of The Buffalo and Midnight Solo. She has  written for TV, stage and radio and was a winner of the BBC Writersroom Undercover Competition and the Claddagh Films Script Award. A finalist in the Red Planet Prize and the Scottish International Open Poetry Competition, she was also shortlisted for the Hennessy Literary Award for poetry, and many other awards for screenwriting.
The Belfast Cathedral Heritage Writer-in-Residence 2022-23, she has previously held several other residencies. She co-commissioned and co-curated Ireland's first Poetry Jukebox, which is now a permanent installation in Belfast. She is one of the originating artists on the collaborative project Bridging The Silence, a poetic audio walk and installation shown on pedestrian bridges, which gives a voice to survivors of abuse and political violence. She holds an MA with Distinction in Creative Writing from Queen's University, and is a part-time Lecturer in Creative Writing for Ulster University.
WO: How would you describe your writing to someone new to it?
DC: I write about what affects me deeply, what I'm questioning, what I'm searching for. I often explore grief and loss, but that always leads me on a journey toward hope and redemption.
WO: Can you tell us a bit about your latest book, The Wind Stills To Listen?
DC: The Wind Stills To Listen is my third poetry collection. I had two heart attacks in a week at the age of 43. I sat there, utterly powerless, and wondered, 'Is this it? Am I going to die now?' That experience shaped this collection.
I wanted to explore boundaries and thresholds, that liminal space between living and dying, light and dark, hope and despair. I write about loss, but I also move forward into hope, into the promise of love. Looking back, I suppose I was asking myself three questions as I wrote: What does it mean to live? What does it mean to love? What does it mean to have faith in something greater? To answer that last question, I wrote a sequence of poems from the POV of Mary Magdalene.
WO: What inspired you to write in the first place, and what inspires you now?
DC: What inspired me to write was the desire to show people that we are so much more than we think we are. When I was growing up, I always felt there has to be more to life than this. The book that really inspired me to write was Jonathan Livingstone Seagull by Richard Bach. When I read it, I knew there was someone out there who felt as I did; that I was not alone. It was a life-changing moment. I started to write to let people know that, no matter what they were going through, they were not alone; that they had more strength, wisdom and gifts than they were aware of.
Writing has always been a healing and cathartic thing for me; a way for me to make sense of my life.
Both those drives are still there but, after my heart attacks, I stumbled onto a spiritual journey. To me, this clarified that the 'something more' I was searching for was transcendent, a connection to the Divine. This search for the transcendent has become more pronounced in my writing now, and it's a challenge to do it in a grounded way.
WO: The last issue of Write On! explored the theme 'Worlds Apart'. With that in mind, do you find yourself drawn towards writing about the world you know intimately, or do you strive to discover a world unknown?
DC: That's a great question. It's both those things. I absolutely write about the world I know intimately and I explore it intimately. People have commented on my forensic attention to detail, especially in my poetry. However, I'm also searching for that world unknown. In my case, this is the inner world, the journey of the soul, and the greater truth of the invisible world around us; our connection to the Divine.
WO: What one piece of advice would you give an aspiring writer?
DC: Believe in yourself. If your soul is calling you to write, that's what makes you a writer. Don't wait for acclamation from the outside world. Just write, and keep on writing and know you're learning with every word you write. Keep your love for writing alive, and write every day for the sheer joy of it.
WO: Question from Twitter user: @lisalovesbooksx Have you ever suffered from readers' block?
DC: Yes. I've started Ulysses by James Joyce several times and given up. I've also dipped into A Course In Miracles by Helen Schucman, but only reached lesson six. I know it's full of beautiful wisdom, but I'm not a very patient person and give up when I have to read and re-read something.
WO: Can you tell us anything about your future projects?
DC: My fourth poetry collection is in draft form. I'm trying to capture that inner spiritual journey by writing about a physical journey. It also includes poems I've written during my time as Belfast Cathedral Writer-in-Residence. Those poems explore the tension between the religious and the spiritual, the childhood teachings and my recent inner experiences.
I received a seed commission from the Lyric Theatre, Belfast to write a new play. I'm currently working on the second draft. It's a series of monologues exploring grief from the perspective of three interconnected women. I lost my mum during lockdown, and this is a way of dealing with that loss, and the aftermath of COVID.
I'm also working on a book that is part memoir, part spiritual guidebook, where I share my personal experiences and all I've learned on my healing journey since my heart attacks.
WO: Lastly, if you could choose one fictional animal/creature to be a pet or companion, who would it be and why?
DC: I would choose Aslan from The Lion, The Witch And The Wardrobe by CS Lewis, another book that had a profound effect on me when I was quite young. Aslan is good, wild, wise, divine and magical: a beautiful guide, all things I'd love to be. So yes, I would walk with this wise, loving, divine guide there to ferociously protect me, which I believe is the truth of how we're meant to live.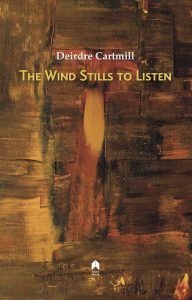 *****
Find out more about Deirdre Cartmill here: www.deirdrecartmill.com and connect with her on social media: @deirdrecartmill and www.facebook.com/deirdrecartmillpoetry. The Wind Stills To Listen is available to buy from her website (www.deirdrecartmill.com/shop) and Amazon.
***** 
Issue 17 of Write On! is out now and you can read it online here. Find it in libraries and other outlets. You can find previous editions of our magazines here.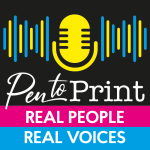 You can hear great new ideas, creative work and writing tips on Write On! Audio. Find us on all major podcast platforms, including Apple and Google Podcasts and Spotify. Type Pen to Print into your browser and look for our logo, or find us on Podcasters.Spotify.com.
*****
If you or someone you know has been affected by issues covered in our pages, please see the relevant link below for ​information, advice and support​: https://pentoprint.org/about/advice-support/
Believe in yourself. If your soul is calling you to write, that's what makes you a writer. Don't wait for acclamation from the outside world. Just write, and keep on writing and know you're learning with every word you write. Keep your love for writing alive, and write every day for the sheer joy of it.