Write On Interviews: Author Eunice Nascimento
Write On! interviews romance author Eunice Nascimento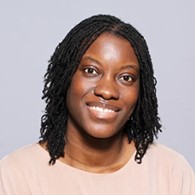 Eunice strives to write stories exploring how people's life experiences affect their relationships. She's inspired by life, news, and the people around her and enjoys writing about tangled situations where true love wins out. By taking readers on an emotional roller-coaster, she hopes they will find a delightful escape from the everyday in her books.
She lives in London with her spouse and two children. When she's not writing or spending quality time with her family, she enjoys reading romance novels, watching K dramas, and dancing salsa, bachata, and kizomba. Though she admits that, lately, she's more likely to watch YouTube dancing videos than to actually dance herself!
WO: How would you describe your writing to someone new to it?
EN: Sweet contemporary romance with a generous element of family and community.
WO: Can you tell us a bit about your latest book, See Beneath Their Secret Pact?
EN: It's a fake dating, best friend's sister sweet romance between a nursery owner and a neurosurgeon. It's the third book in my See Beneath Series, which is all about how the power of love aids in overcoming obstacles.
WO: What inspired you to write in the first place, and what inspires you now?
EN: My love of reading romance novels. I read extensively in the genre, from Mills & Boon when I was a teenager, to Georgette Heyer and Catherine Cookson and, later,  paranormal romance. A few years ago, I was reading a novel and didn't like the ending. It got me thinking about how I would have written it– with a happy ending, of course – and the idea to start writing my own romances began. Now, life stories inspire me. I'm fascinated by how people's relationships are shaped by the challenges they face.
WO: The last issue of Write On! explored the theme 'Worlds Apart'. With that in mind, do you find yourself drawn towards writing about the world you know intimately, or do you strive to discover a world unknown?
EN: I'm more drawn to writing about the world I know, probably because it's familiar and as a new writer I feel that my stories will feel more authentic.
WO: What one piece of advice would you give an aspiring writer?
EN: Give yourself permission to write a rubbish first draft. Even if you have to lie and tell yourself you'll bin the whole thing if you don't like it!
WO: Question from Twitter user: @Grasshopper2407 – What do you enjoy the most about the genre you write in and what would be your secondary genre choice
EN: I love that most romances have happy endings. My secondary genre of choice would be women's fiction because, once again, there's a large element of dealing with relationships.
WO: Can you tell us anything about future projects?
EN: I'm working on book four of my See Beneath Series. It's called See Beneath Your Grumpiness and is a sweet office romance about a grumpy boss and his assistant.
WO: Lastly, if you could choose one fictional animal/creature to be a pet or companion, who would it be and why?
EN: Timmy, George's dog in The Famous Five books. I was nearly bitten by a dog when I was little and Timmy is the first fictional dog I read about. Reading about his love, loyalty and friendship towards the Famous Five was reassuring, even if he is only a work of fiction!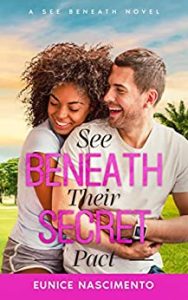 You can find out more about Eunice here www.eunicenascimento.com and connect with them on Facebook:  facebook.com/eunicenascimentowrites and Instagram: @eunicenascimento2015.
See Beneath Their Secret Pact is available to buy from Amazon.
*****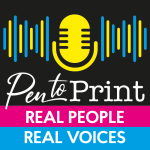 Issue 14 of  Write On! magazine is available now. You can find it here. 
Each edition of our Write On! Audio podcast features an exclusive interview. Find us on all major podcast platforms, including Apple and Google Podcasts and Spotify. Type Pen to Print into your browser and look for our logo or find us on Anchor FM.
*****
If you or someone you know has been affected by issues covered in our pages, please see the relevant link below for ​information, advice and support​: https://pentoprint.org/about/advice-support/
Life stories inspire me. I'm fascinated by how people's relationships are shaped by the challenges they face.