Write On Interviews: Author Helen Aitchison
Write On! interviews author Helen Aitchison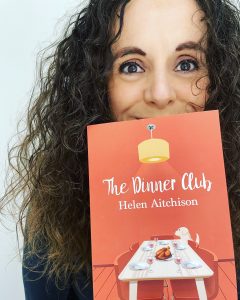 Helen is from Newcastle upon Tyne. She spent her career working in health and social care, before beginning to write in late 2019. Having never previously written, she couldn't stop and has had around 20 small pieces published alongside novels. Helen's debut novel, The Dinner Club, was published in March 2022, with Cahill Davis Publishing. Her second fictional novel, The Life And Love (Attempts) Of Kitty Cook will be released in March 2023, with Cahill Davis Publishing. Helen also released a non-fiction book, Veterans' Voices in November 2022. This is an account of 22 veteran stories across seven decades of conflict, and was published through her non-profit organisation, Write On The Tyne.
Before embarking on her author journey, Helen worked in social work and in the charity sector as a support worker. Previously, she spent over a decade in senior management for a national charity supporting vulnerable adults and children.
WO: How would you describe your writing to someone new to it?
HA: My writing probably fits best into commercial fiction. It has many elements and my influences are people, society and social issues. I write about life, experiences and people who have been, or could be, us. I use my own personal experiences, the circumstances of those around me and my two decades of working with thousands of diverse people.
I'd say my writing is reality, but with reflection and humour built in. Some of the subjects I write about are gritty: domestic abuse, mental ill health, addiction and loss, for example. However, I also combine friendship, love, hope, recovery and acceptance in my work. Balance is important. I want readers to connect, relate and feel some understanding from my writing. For me, understanding of certain issues and empathising with scenarios is important, but I also want to feel understood as a person through my characters.
An explosion of emotions is what I like as a reader. It's therefore what I aim to deliver as a writer. I've been told many times that my work makes people cry, but also laugh out loud, smile, and feel heard. And I will always try to drop a little Geordie humour into it!
WO: Can you tell us a bit about your latest book The Life And Love (Attempts) Of Kitty Cook?
HA: The Life And Love (Attempts) Of Kitty Cook will be released in March 2023 and is about one woman's quest to find love. After a long-term relationship break-up, Kitty wants to find her happy-ever-after. She embarks on her search for Mr Right through internet dating, with many enlightening experiences! The book is an easy read and relatable to anyone who has dated. It's inspired by my own search for love and the many disastrous dates I had myself.
My debut, The Dinner Club, is about five very different people who connect over a dining club. They all have a secret and want a bit of escapism from the everyday. However, it becomes much more than food. As the group form, food becomes the last thing on the menu. The Dinner Club is about acceptance and that we can make friends being just who we are.
WO: What inspired you to write in the first place, and what inspires you now?
HA: A few things led me into writing. It was never something I'd thought about until 2019. I think this is important to share, as we often feel we can't achieve, or even try something, if we aren't a certain age, or background, or if it isn't our childhood dream. I'd say we can always give something a go and utilise all the help around us!
In 2018, I began reading again after years of not reading. I read a book by a friend, Ian Fiddes, inspired by his time in the police. His book is excellent and made me excited to read again. I began reading books whenever I could: at the gym, while waiting for dinner to cook and in bed. I wanted to make up for neglecting books for so long! Reading became a stress release from a pressurised job and I fell in love with books, characters and words.
In the summer of 2019, I was on holiday and read a book that made me decide I would try writing: Mitch Albom's The Five People You Meet In Heaven. I remember finishing the book, holding it to my chest, and feeling myriad emotions. I wanted to write something that made someone else feel the same way I did. That was the moment I decided I'd try writing.
On returning from my holiday, I saw a competition to secure a place on a playwriting course at a local theatre. I entered a short piece (the first thing I'd ever written) and I won a place. The course was ten weeks long and full of much more experienced people. People shared they'd plays produced, pieces published, and were English Lit and Creative Writing under-grads. Then it was my turn.
"I write emails at work. Hundreds of emails each week at work." That was it; my entire writing experience – until I started the course.
I began experimenting with my writing, trying different styles and genres. I wrote poems, flash fiction and short stories. Pieces started to get published, giving me confidence. Then I began writing The Dinner Club. I haven't stopped since!
My inspiration has never really changed. I'm inspired by people, psychology, social issues and social injustice. It's what I did for 20 years and I still do it now; writing about people and issues and delivering my business to support marginalised people into writing.  
WO: The current issue of Write On! explores the theme of 'Contradictions'. With that in mind, do you ever actively look for, or specifically avoid, contradictions in your writing? Is there a part of your writing process that contradicts itself, yet somehow works for you?
HA: As people, we are all contradictions, and my writing is heavily based on human behaviour. Readers get an image of a character, or have a view of a certain theme; for example, domestic abuse or addiction. I hope that, within my writing, I help to change people's minds through awareness, empathy and, perhaps, a different perspective.
WO: What one piece of advice would you give an aspiring writer?
HA: Find your own voice, through experimenting with writing but also through reading. I write how I like to read and this includes short chapters and multiple points of view. Explore books to find your author inspiration and to learn more about what you like and don't like. Authors will absolutely impact you as a writer. The work they produce stays with you long after the book is closed and will encourage you to write.
Realise you have to work hard and no one is going to do it for you! Even a publishing deal is a partnership. Your work never ends, but it's the most amazing job.
Develop a thick skin. Not everyone will love your work, but some people will think it is the best thing in the world. Focus on the positive. Be grateful.
Access support through the writing communities on social media. People I followed have become friends for life. They get it: the positives and the negatives. This is even more crucial if writers don't have much support around them in their everyday life.  
WO: Question from Twitter user: @madeleinefwhite What comes first for you, the characters or the plot?
HA: I always have an outline of a plot first. Usually quite vague and I let it grow organically, changing when I'm writing it, if necessary. Then comes the name of the book. I never struggle with the titles of my books. At that point, the characters come marching into my head. I know their names, what they look like and I can visualise them vividly.
It usually all happens quickly and usually at the most inconvenient time. Most recently, when I was in the middle of a gym Metafit class. But sometimes in the middle of the night, or when I'm making what becomes burnt toast!
WO: Can you tell us anything about future projects?
HA: I have a few manuscripts drafted. One is a thriller which will be a series and I'm thinking I want to write the full series before doing anything with it. I've also recently written a commercial fiction book about serendipity and finding our place in the world.
Alongside these fictional pieces, I'll be continuing to produce non-fiction work around community commissions with my business, Write On The Tyne.
WO: Lastly, if you could choose one fictional animal/creature to be a pet or companion, who would it be and why?
HA: I love this question! It would be the Mole from The Boy, The Mole, The Fox And The Horse, by Charlie Mackesy.
I was gifted this book in 2019 when it first came out and I fell in love with it. Plus, Charlie is a Northumberland lad, so grew up in my area! The book is beautiful, filled with life lessons and reflections. I often use it as an example in my teaching.
The Mole is a kind, wise, protective companion, who speaks with heart. Plus, he likes cake, so I think we would be the best of friends!
You can find out more about Helen Aitchison here: www.helenaitchisonwrites.com and more about Write On The Tyne here: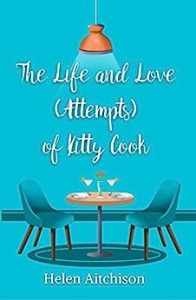 www.writeonthetyne.com or connect with them on Instagram: @helen.aitchison_writes, on Twitter: @aitchisonwrites and on Facebook: Helen Aitchison Writes.
The Dinner Club is available to buy here and Veterans' Voices is available to buy here.
The Life And Love (Attempts) Of Kitty Cook can be pre-ordered here.
*****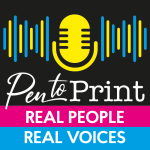 Issue 15 of  Write On! magazine is available now. You can find it here. 
Each edition of our Write On! Audio podcast features an exclusive interview. Find us on all major podcast platforms, including Apple and Google Podcasts and Spotify. Type Pen to Print into your browser and look for our logo, or find us on Anchor FM.
*****
If you or someone you know has been affected by issues covered in our pages, please see the relevant link below for ​information, advice and support​: https://pentoprint.org/about/advice-support/
An explosion of emotions is what I like as a reader. It's therefore what I aim to deliver as a writer.