Write On! Interviews: Author Jill Anabona Smith
Write On! interviews author Jill Anabona Smith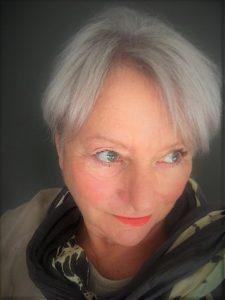 Jill says: "I was born by the sea in Kent, worked in London, then retired to be beside the sea once more. After creative writing classes, I became hooked on telling short stories because of the way they offer a snapshot in time. I won a few competitions (BBC Radio Nottingham, story-tellers.co.uk, the Winchester Annual Writers' Conference, Kent Life and Writing magazines), then as a Pen to Print Book Challenger, I started on my novel, Four Kinds Of Shipwreck.
J.M.W.Turner's 'Loveliest skies in Europe', from searing coral sunrises to rose-pink sunsets at the end of the day, are a daily backdrop to much of my writing. The beaches and a rich social mix provide constant inspiration."
 WO: How would you describe your writing to someone new to it?
 JAS: At 70, I've been around a while and have at last learned some life lessons, which have wormed their way into my storytelling.
The English language is a rich resource with which to paint word pictures, whether they're landscapes or love affairs. Novelist Louise Doughty, who wrote the gripping Apple Tree Yard, said in The Sunday Telegraph (A Novel In A Year) that my writing 'made her flesh creep', which I took as a compliment!
WO: Can you tell us a bit about your latest book, Grey Velvet Shoes?
JAS: I'm always working on short stories but am currently concentrating on my next novel, Grey Velvet Shoes. It's a time-bender that will tell the stories of three women in different eras confronting similar experiences.
WO: What inspired you to write in the first place, and what inspires you now?
JAS: My first tutor, Maggie Solley, who was both encouraging and critical!
Writers aren't all only children and all only children don't grow up to be writers. But it helps. The long silences of an only childhood allow space where ideas can grow. 
Telling stories, telling tales, telling the truth, telling lies.
Being somewhere else, being someone else, being someone.
Fiction, it dawned on me, was where anything could happen, with anyone; liberation from the watchful eye of a parent. An unspoken thought could flourish away from disapproval. The spaces in other houses were filled with raucous siblings and were there for me to populate with rock stars and royalty, villains and champions. And once these people invaded, I wasn't going to let them go.
Writing was where I went whenever my head wasn't full of mundane stuff that paid the bills. 
WO: The last issue of Write On! explored the theme of 'Hearing Voices'. With that in mind, is there an inner voice that drives you forwards or maybe plants those seeds of doubt when it comes to being creative? Or perhaps it's an external voice you have to ignore? How do you overcome that? And finally, are there any connected voices in your creative space that inspire you?
JAS: I hear my mother's voice all the time. We had a hard and difficult relationship, so usually when I hear it, I do the opposite!
More positively, Maggie Solley's exhortations MorSEX and PHEW! are always in my mind. 'Make The Ordinary Seem Extraordinary' and 'Physicality's Essential In Writing' work as inspiration, whatever the theme of your piece.
I wanted Four Kinds Of Shipwreck to reflect our reactions to a marriage going wrong – the way we ignore it for too long, then eventually join the dots and face the truth. I was also tired of reading novels about sex disappearing from women's lives as they mature; as if only the beautiful young have a lien on the physical side of things.
WO: What one piece of advice would you give an aspiring writer?
JAS: Follow your fingers, whether they're holding a pen or pounding a keyboard. Let the words roll out and worry about editing afterwards.
WO: Can you tell us anything about future projects?
JAS: IsleWrite, the writing group I've been a part of for 20 years, is hopefully featuring on Pen to Print's Write On! Audio podcast soon and we're putting together plans for an Autumn LitFest in Broadstairs, Kent.
WO: Lastly, if you could choose one fictional animal/creature to be a pet or companion, who would it be and why?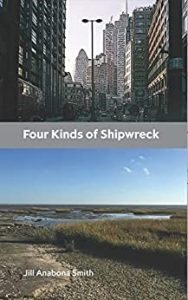 JAS: Can I bend the definition of 'creature' and choose the late, great Hilary Mantel's Thomas Cromwell? I've been inside his head for all three books and it's been a genuine experience, shaping my thoughts and actions. I miss him.
 You can find out more about Jill Anabona Smith on her website: jillanabonasmith.com and connect with them on Facebook and Instagram: @JillAnabonaSmith.
Four Kinds Of Shipwreck is available to buy from Amazon.
***** 
Issue 17 of Write On! is out now and you can read it online here. Find it in libraries and other outlets. You can find previous editions of our magazines here.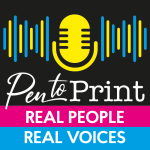 You can hear great new ideas, creative work and writing tips on Write On! Audio. Find us on all major podcast platforms, including Apple and Google Podcasts and Spotify. Type Pen to Print into your browser and look for our logo, or find us on Podcasters.Spotify.com.
*****
If you or someone you know has been affected by issues covered in our pages, please see the relevant link below for ​information, advice and support​: https://pentoprint.org/about/advice-support/
Writers aren't all only children and all only children don't grow up to be writers. But it helps. The long silences of an only childhood allow space where ideas can grow.