Write On! Interviews: Author Mickey Mayhew
Write On! interviews author Mickey Mayhew.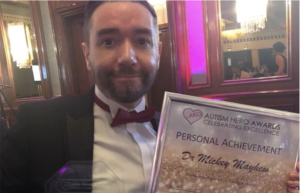 Mickey is an author from London, working mainly on Mary Queen Of Scots and the Tudor reign. He has a PhD focusing on the online 'cult' surrounding the 'tragic queens' Anne Boleyn and Mary Queen Of Scots. He wrote The Little Book Of Mary Queen Of Scots (published by The History Press) in 2014 and then I Love The Tudors (published by Pitkin Publishing) in 2016. A new book on the Tudors is due to be released by Pen & Sword Books in 2022, to be followed by one concerning Mary Queen Of Scots. These form part of a four-book deal, with two more titles to follow.
Previously to this, he was a co-author on three books relating to Jack The Ripper, while fictional work includes the urban fantasy trilogy The Barrow Boys Of Barking, beginning with Jack And The Lad and concluding, for now, with Jamie's Big Bang. His tongue-in-cheek memoir Mickeypedia is also now available, with all proceeds going to the 'Anna Kennedy Online' autism charity.
WO: How would you describe your writing to someone new to it?
MM: Quirky and chatty, fond of the newcomer; for my factual books, they're in-depth but accessible.
WO: Can you tell us a bit about your latest book, Mickeypedia – The A To Z Of An Autistic Savant?
MM: This is an autobiographical work, concerned with the experience of growing up with autism in the 1980s and passing through a particularly merciless school system when you have an invisible disability; plus, I've had a pretty odd life and thought it would look good upon the page. And it does!
WO: What inspired you to write in the first place, and what inspires you now?
MM: I honestly can't say; it's so deeply ingrained that it must be genetic. Likewise, as to what inspires me to write now, well, I just have so many ideas…
WO: The current issue of Write On! explores the theme 'Writing With Wonder' – creating stories to fuel the imagination. With that in mind, how do you weave wonder into your writing?  
MM: I live with my characters as though they were real: I make sure I know what time they get up, their work hours, etc, then, at any given moment, I can think of them and know exactly what they would be doing – that's wonderful!
WO: What one piece of advice would you give an aspiring writer?
MM: The oldest cliches are best: simply, never give up.
WO: Question from Twitter user: @lisalovesbooksx – How do you select the names of your characters?
MM: Usually they're taken from historical characters I admire, or else from people I know.
WO: Can you tell us anything about future projects?
MM: I have a four-book deal from Pen & Sword Books, the first of which concerns the Tudors; that one is due out in February 2022.
WO: Lastly, if you could choose one fictional animal/creature to be a pet or companion, who would it be and why?
MM: K9 from Doctor Who – my favourite programme, by a mile!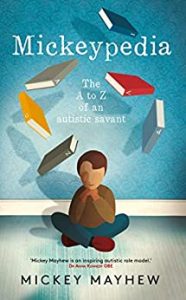 You can find out more about Mickey Mayhew here: mickeymayhew.com  and connect with them on Twitter: @Mickey_Mayhew. Mickeypedia – The A To Z Of An Autistic Savant is available to buy from Amazon and on the 'Anna Kennedy Online' website; all proceeds go to the aforementioned charity.
***** 
Issue 10 Write On! magazine is available now. You can find it here.  
The oldest cliches are best: simply, never give up.