Writer Of The Month: Dagmara Drozdowska
Presented By Ann Dineen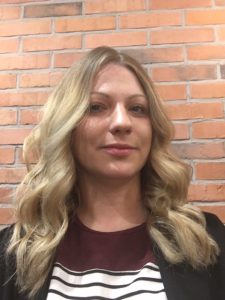 I'm delighted to introduce our writer of the month, Dagmara Drozdowska, who achieved second place in the Pen to Print Book Challenge competition in 2019, with her debut novel The City Of Runes: an adventure mystery woven through with Norse mythology.
Dagmara is a resident of the Borough via Poland, where she obtained her Master's Degree in History, while studying Runology during her time as an exchange student in Norway.
After studying the subject in depth, researching literature and watching movies, the idea of writing her own book began to form. Dagmara would make notes and research ideas; adding the knowledge she had already acquired.
While on a visit to Barking Library, she picked up a Pen to Print Book Challenge leaflet. This spurred her on to take the plunge and enter. Still nervous about entering, though, Dagmara left it until the last hour before the deadline to send in her first chapter and synopsis, and we're so glad she did! She was excited to be accepted as one of the finalists, which involved being mentored and supported during her writing journey.
Her mentor, Jacqueline Gabbitas, encouraged, advised and steered her throughout. There was much to learn: from first draft, researching and fact-checking, to developing storyline and characters. This knowledge gave her the tools to write and, in turn, helped to build her confidence as a new writer.
One of the aspects she enjoyed most was researching: visiting Oslo and spending time in her favourite Museums; always keen to explore the subjects of Runes and Vikings.
All Dagmara's hard work paid off in the end, as we have seen.
She says:
"Participating in a competition and writing a debut novel in my second language was so challenging, I never focused on earning any place; just wanting to finish it for myself. I still find it a challenge! The kind words from the judges, my friends and family, were the biggest award for me."
Watch Pen to Print's Dan Cross make the second-place announcement at the 2019 Book Challenger Awards Evening:
*****
The City Of Runes is an adventure mystery with supernatural elements. It follows the story of Dr Erica Skyberg, Norwegian curator and an expert in Vikings and their lives, who at some point finds herself in modern-day London, helping handsome Professor Roger Wright to solve the mystery of a stolen relic from the British Museum. Little do they know, all this is connected to the ninth-century Viking saga of Einarr and the cursed ring.
Let's now enjoy an extract from Dagmara's book:
When Einarr was brought into this world, he did not know how strong the significance of his name would be. That 'Lonely Warrior' would destine him to be the greatest Viking hero Norway had ever seen. But also, that he would die alone. At a very young age, Einarr was orphaned. The family of his closest friend took him in and raised him with their son, Audun. The two were inseparable as brothers. Einarr was known for being a warrior with great fighting skills, compassion and a kind heart. It was not long before the King's daughter, Princess Ingrid, and Einarr, fell in love. One day, upon hearing that the very powerful Völva named Hertha, had returned to the local woods, Audun asked his brother to visit her with him. Audun wanted her to foresee the future for him. Using her runestones, the Norse shaman saw that he would indeed find a great love but also, that plague was coming to Norway and he would lose his life. This terrified Einarr's brother, but neither of the warriors would show their fear. One year to the day, the King of Vikings decided to invade England. Einarr knew the expedition could take years, and desired to marry Princess Ingrid before he left his beloved country. In the village, he found the best craftsmen who learned their skills from dwarfs themselves and bade them to make the two most beautiful rings anyone had ever set eyes on. They went to the temple. At its centre was a runestone made to honour the marriage of Odin & Freya. The craftsmen cut out two pieces from the stone and on each engraved the Viking symbol of man and woman. Combined they made up the symbol of love:

And Einarr was happy. With the rings in his hand, he remembered Hertha's prophecy about the plague. He travelled back into the woods to ask Völva to cast a spell on the rings: whosoever owns them, will be protected against all disease. Hertha added two precious gemstones to each symbol on the ring. "Now, my lord," she said, "I have gifted you with the symbol of family:

"The gemstones will change colour every time you and your Beloved think of each other." With three days until the expedition, Einarr proposed to his love. Ingrid rejected him. Her heart, she said, belonged to his brother, Audun. For a third time, Einarr returned to the Norse shaman. This time heartbroken and bereft. When he spoke, his voice was low and long: "Curse this ring. Curse it with loneliness forever." "And then?" asked Völva. "Then I will trick my brother to take it. And when he proposes to my Ingrid, she will fall under the curse and be forever lonely and not capable of love." "Are you sure?" asked Hertha. "I am," said the warrior. But he was not sure. On his way back to the village, Einarr had a change of heart. His pain was such that he never wanted to fall in love again. The lonely warrior kept the cursed ring for himself. He would be incapable of love. Even in his grief, he remembered the shaman's warning. Plague was coming to Norway. Although he had no love for any woman, he still had love for his brother. He gave the blessed ring to Audun, to be protected by spell. When Einarr was leaving this world, even though he was far away from home, he was surrounded by his brothers. They left with the 'Lonely Warrior' gifts for their Gods, hoping that when he enters Valhalla, they will receive them and help all Vikings to win their battles. Upon return to his beloved Norway, Audun quickly realised that Hertha's prophecy was fulfilled. Plague had ravaged the surrounding villages and many people died. His Ingrid died. Audun had wished to go to Valhalla but on hearing of Ingrid's death, he killed himself to join his beloved in the afterlife.
*****
Dagmara shares some good advice for anyone thinking of writing: "Practise is key. Getting into a daily writing habit is a must, even if you have writer's block. You don't necessarily have to work on your novel every day; just use daily prompts as your inspiration."
May is 'National Share A Story Month' and we are very glad Dagmara shared her story with us. You can follow her on: @dagmarajulia or email: @heyitsmarahere@gmail.com and City Of Runes can be purchased here.
Our Workshops can be found here and Competitions, including the Book Challenge, here.  Visit our Books page for details of all other Book Challenger publications.
June's Writer Of The Month will be Palak Tewary.
Happy writing!
*****
SPECIAL OFFER for Write On! readers from Bloomsbury this spring:
The Right Word: A Writer's Toolkit of Grammar, Vocabulary and Literary Terms ­
SPECIAL OFFER for Write On! readers  For 20% off The Right Word, use the discount code:
WRITEON20 at www.bloomsbury.com/therightword
The Writers' & Artists' Guide to How to Write: How to plan, structure and write your novel by William Ryan
SPECIAL OFFER for Write On! readers  For 20% off Writers' & Artists' Guide to How to Write, use the discount code:
WRITEON20 at www.bloomsbury.com/howtowrite
*****
Participating in a competition and writing a debut novel in my second language was so challenging, I never focused on earning any place; just wanting to finish it for myself. I still find it a challenge! The kind words from the judges, my friends and family, were the biggest award for me."