As An… Editor: Alison Ward
This week Write On! speaks to editor Alison Ward.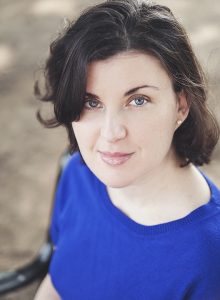 Alison, the owner of The Editing Ward, LLC, has been editing for over 20 years, contributing to numerous renowned publications. She spent a long time working in the refugee/survivor space, assisting on several award-winning books, including one presented at a U.N. conference, and is the featured recommendation on a Pulitzer-Prize-nominated journalist's book.
In the last few years, her work has shifted towards academics, both editing research for publication and assisting with college admissions. This has allowed for more varied projects. The most important thing to know is that she loves both her red pen and the Oxford comma, and hopes never to have to choose between them!
WO: What genre/s or type of editing do you specialise in?
AW: Strictly non-fiction. I work mostly with resumes, academic work (both medical editing and assisting with theses and dissertations), and college admissions essays. I love what comes across my desk because I'm always learning something new. How many other jobs allow you to learn and work at the same time?
WO: What would a typical workday entail?
AW: Copious amounts of coffee! I begin the day checking social media and email for the business, and return any client correspondence. I usually have breakfast and then tackle whatever project is on the day's schedule. I try to put in my work hours earlier in the day, and use the late afternoon for following up with clients on completed work, invoicing, and getting some fresh air.  I've always loved working from home.
WO: Where does the majority of your work come from? Do you do anything else alongside being an editor?
AW: Most of my work these days is from referrals made by existing clients. I'm extremely grateful to have worked with some amazing people and on some incredible projects. In the past, I've taught and tutored, and I've done some ghostwriting, but I love editing and am solely focusing on it these days.
WO: What inspired you to become an editor?
AW: I had a college professor who once said, "If you can make a career out of a personality flaw, do it." Therefore, I'm not a persnickety person, obsessed with minutiae: I'm an editor! I was the student other students asked to check their papers. I freelanced while working other jobs, but finally decided to just go for it and 'hang out a shingle'. I've never looked back.
WO: The current issue of Write On! explores the theme of 'A Kaleidoscope Of Colours'. The idea is that life at the moment is like looking through a kaleidoscope: ever-changing, ever-swirling patterns we must interpret and adapt to. Can you tell us a bit about how you have been adapting to the shifting landscape of this fairly challenging present?
AW: Given the state of the world, it won't surprise anyone that, right now, I'm working mostly on resumes. Never has the phrase, 'Adapt or perish,' seemed so pertinent. I'm lucky in that I had this business and my home office established before the pandemic hit. Work has been a little harder to come by, which is expected, but I'm grateful to have it. Freelance life teaches that there are dry spells and monsoons. I work hard on anything that comes across my desk with the goal of building a lasting relationship with that client.
WO: What are the most frequent problems you see amongst submissions?
AW: So many typos! In a greater sense, for college applications, teenagers really struggle to tell their own stories. Additionally, somewhere along the way, we stopped teaching resume writing as a life skill; now, more than ever, it is extremely necessary.
WO: Question from Twitter user: @LoneShepherdess – How does an editor ensure the suggestions they make both help a struggling writer express themselves, but ensure their work remains true to them?
AW: This is a great question, but the answer is simple. An editor, in any genre, should NEVER change the writer's voice or intention. That's the reason they make suggestion/comment buttons in all word processing programs. If it's not a typo or style guide compliance error, I always say, "I think what you're aiming for is X; is that correct?" The key is in your question. It's my job to make suggestions, not to criticise, but to offer constructive assistance. No writer should be made to feel badly about writing or pressured to change voice, ever. Without writers, we editors have no work! A healthy respect is necessary.
WO: Can you tell us something you would love to see?
AW: A few things: 1) Widespread use of the Oxford comma, 2) I'd like less inquiries asking to pay me to write for them. I know there are plenty of editors, writers, and 'college admissions consultants' who will do this. It's unethical, 3) I'm always reading, but far more e-books this year since the pandemic hit and lockdown closed our local library. The amount of errors in them is astounding. I'd love to see less of those, and 4) Menus that properly spell Caesar salad.
WO: Lastly, if you could choose one fictional animal/creature to be a pet or companion, who would it be and why?
AW: I know I should choose a great literary figure, but I have to go with my heart: Super Grover, from Sesame Street. Any Sesame Street Muppet, actually. The values they espouse would do this world a lot of good if they were put into practice more.
You can find out more about Alison and her work as an editor here: www.TheEditingWard.com, and/or connect with her on Twitter: @TheEditingWard and/or Facebook: Facebook.com/TheEditingWard.
Read the latest issue of Write On! magazine online.
Our First Line Generator Competition Is Now Open. The best two 'first lines' submitted will win a copy of The Organised Writer by Antony Johnston.
Freelance life teaches that there are dry spells and monsoons. I work hard on anything that comes across my desk with the goal of building a lasting relationship with that client.