Licence To Thrill: Interview With Jane Corry
Licence To Thrill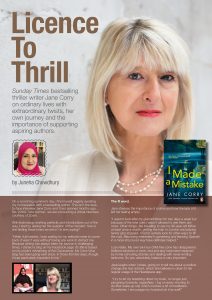 Sunday Times bestselling thriller writer Jane Corry on ordinary lives with extraordinary twists, her own journey and the importance of supporting aspiring authors.
(CLICK HERE FOR MAGAZINE VERSION)
by Juneha Chowdhury 
On a scorching summer's day, I find myself eagerly awaiting my conversation with a bestselling author. This isn't the face-to-face interview Jane Corry and I had planned months ago. No, in this 'new normal', we are conducting a virtual interview, courtesy of Zoom.
With technology working perfectly and introductions out of the way, I start by asking her the question of the moment: how is she finding these times we are in. Is she coping?
"When it all started, I was waiting for my editorial notes to come back. It wasn't easy without having any work to distract me. Because writing has always been my saviour in challenging times, I decided started a blog on my Facebook page; its title is based on my uncle's misnaming of the Coronavirus. My Corni Virus blog has been going ever since. In those first few days, though, it was particularly important to me."
The R word
Jane stresses the importance of routine and how the lack of it left her feeling empty.
"I used to look after my grandchildren for two days a week but because of the new rules I wasn't allowed to see them any more. Other things like travelling to see my 96-year-old father at least once a month, getting the train to London and playing tennis also stopped. I had to actively look for other ways to fill the void. Becoming interested in gardening and learning Spanish in a more structured way have definitely helped."
I can relate. My own six-hour child-free zone has disappeared. Defined windows of work, rest and play have been replaced by home-schooling dramas and dealing with never-ending tantrums. So yes, absolutely, balance is very important.
Jane laughs when I share, going on to tell me about a positive change she has noticed, which she believes is down to her regular usage of the Headspace app.
 "I try to let my breathing direct my brain, no longer just ploughing forwards, regardless. I log on every morning to do their wake-up call which involves a bit of meditation. Sometimes, I encourage my husband do it as well!"
The dream
I find myself hooked and want to know more. As a writer myself, the obvious place to start is her writing journey.
"Ever since I was a little girl, I used to dream about how I would have a house by the sea and write stories for children." 
She always knew education would be critical to make this happen. Reflecting on this, she smiles.
"At school, I was never any good at Maths and Science, but I could write stories. I went on to study English, writing regular features for the university magazine. By the time I left, I knew any career I embarked on would have to involve writing. At 21, I didn't feel old enough to write a novel, so I applied to study journalism. To my surprise, I was accepted." 
Fast-forward through the next eighteen years – the birth of her three children and a career in journalism ran alongside marriage. She goes on to share how, in her late thirties, things changed. Her youngest going to school forced a rethink, and therefore the writing of her first novel.
"I got an agent almost straight away. Although it all felt so easy, it really wasn't! She liked my novel but couldn't sell it."
Hard times: The importance of resilience and nerves of steel
"I wrote a novel a year for the next twelve years, but none of them got picked up. Finally I had a romance novel published. This encouraged me to write some more. But then my marriage ended, as did my weekly column on a woman's magazine. Although the events were totally unrelated, the double-whammy forced my life in a new direction."
Divorced, and in need of another source of income on top of her maintenance, Jane shares how she took a job she'd never have taken otherwise: becoming writer-in-residence for a high-security male prison.
"The experience was a real eye-opener. I learnt that your typical criminal does not look like your typical criminal and that often, people are there through poor choices. I realised you can't always condemn too quickly. Having said that, it's important to remember the terrible things that happened to victims… In short, my writing changed, becoming much darker."
Changing focus and a nudge in the right direction
"Prior to this, I would never have thought of writing crime fiction. However, a wonderful lady called Betty Schwartz who worked for a big publisher suggested it. Although I rejected the idea at first, I started to see it might have merit."
So what changed her mind?
"I knew I didn't have the necessary experience to write a typical 'policeman-knocking-on-door' crime novel. I did think, though, that I might be able to write about  relationships: normal, ordinary people and their loved ones breaking the law without meaning to; women who have to find an inner strength, because at some point they, or someone they know, have broken the law."
The ordinary protagonist. Mistakes and regrets
Intrigued, I am keen to learn more about her female protagonists. We move on to I Made A Mistake which recently got to number 7 in The Sunday Times. It is built around the voice of an ordinary person who has made a mistake but could not have imagined its broader implications. I ask if the novel's title serves as its message.
"You've got it in a nutshell. Through my characters Poppy and Betty, I try to show that, young or old, we can all make mistakes and live with regrets."
The importance of the mother figure
Having lost her own mother at just 31, Jane had two substitute mothers; both aunts.
"No one can replace your own mother," she says, "but we all need mothers. Poppy certainly did!  Mother-in-laws get a bad press, but I wanted Poppy to have one she really loved. I'm very close to my son-in-law and treat him as another son. I also wanted Poppy to see Betty like her own mother. Betty is, in fact, inspired by my very eccentric grandmother, who I was incredibly close to."
Licence to thrill – why Jane has it and where it comes from
In our conversation, Jane comes across as charming, funny and natural. Her plotlines, though, are dark and chilling, with an unnerving edge. I ask about those lesser-known personality traits. Where does the darker energy come from that she uses to excite and thrill us in her writing?
Jane laughs. "I like that! My mother did say I had a will of my own! But seriously, I've always been interested in twists; things that take the reader by surprise. I love analysing people and have to dig quite deep into their backgrounds to find out what makes them tick. I also enjoy problem-solving. You can't have a novel without a problem to solve, otherwise you start missing story and pace."
Jane whips out a mood board. A collage of cut-out people and images comes at me across Zoom's pixels. She says it helps her get to know her characters better, giving them more depth. This leads us nicely on to any advice she might have for us writers who are hoping to land that big deal.
"You need to have tenacity to hold on to an idea but also flexibility to change it, a will of steel and a continual awareness of your characters. Most importantly, believe in yourself and your story and never give up – I make no bones about my twelve unpublished novels.
Writing is like building a wall. You have to learn to lay the stones, bit by bit. You're not going to get it right the first time, so be prepared to learn from your mistakes."
The importance of lending a helping hand
I ask her how important it is for successful writers to support those still struggling to make a mark – it's fairly obvious I include myself in this!
"Advice given freely and for the right reasons is incredibly important," Jane says.
 "I remember a call with an editor who, although she wasn't taking my work, told me she believed in my future and took me through 'viewpoint'. That hour spent with her really helped me. I want to give back in the same kind of way."
Lockdown and beyond
We finish how we started, discussing lockdown and its impact moving forwards.
"in future, I might make some of my characters more mindful and be more flexible myself. Before, if my daughter phoned to ask me to meet up, I might have said I couldn't because of deadlines. Now, I'll go round like a shot. You never know what's around the corner and those moments are there to be appreciated. I think I'm learning to live a little more."
And that's how she rolls. Jane Corry. Great writer. Great woman. Great Chat!
Connect with Jane Corry on Twitter @JaneCorryAuthor
Buy I Made A Mistake by Jane Corry on Amazon
Writing is like building a wall. You have to learn to lay the stones, bit by bit. You're not going to get it right the first time, so be prepared to learn from your mistakes.