Pen to Print Celebrates Awards for Women and Activism Year and Write On! Magazine Launch
On Thursday 27 June, Pen to Print were very proud to have presented the finale of another year of success. We celebrated some of the amazing achievements our participants have made, at our annual awards.
We presented the Awards for Playwriting Competition, held earlier this year and announced the Poetry and Short Story Competition winners. We were amazed that so many people were able to join us and one winner travelled from as far as Edinburgh, although she did originally hail from East Ham!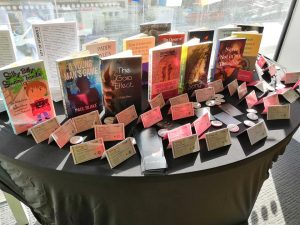 We were thrilled to be joined by our patron Martina Cole who kindly presented the Short Story and Playwriting Awards and some gifts for the shortlisted Book Challengers who are halfway through the 12 months of mentoring. We are looking forward to reading their finished novels next year!
Is was very special to have so many people who have been supporting us and with whom we have formed such great partnerships over the past few years, all come together; including our funder Arts Council England, and our long-term partner New Generation Publishing.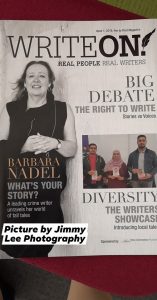 At the event we were also very excited to be launching our new magazine Write On! the finished article is far better than we could have ever dreamed it would be and it was great that the team involved were there either in person on watching on our Facebook Live stream!
We welcomed friends old and new and we look forward to making many more new friends as we enter our new Year of International Storytelling.
We were also treated to a preview of the ReadFest 2019 line up that we will be announcing very shortly.
Appropriately, as we were celebrating the end of our Women and Activism year, we even managed to keep the audience updated with the scores for the England vs Norway Women's World Cup match!
We have a truly exciting year planned and hope you can be a part of it!
To see the Facebook Live video go to: https://www.facebook.com/OfficialPentoPrint/videos/613183125866214/?t=37
To find out more connect by email pentoprint@lbbd.gov.uk or call 020 8227 2267.
We have a truly exciting year planned and hope you can be a part of it!