Pen to Print Celebrates Awards for Women and Activism Year and Write On! Magazine Launch
On Thursday 27 June, Pen to Print were very proud to have presented the finale of another year of success. We celebrated some of the amazing achievements our participants have made, at our annual awards.
We presented the Awards for Playwriting Competition, held earlier this year and announced the Poetry and Short Story Competition winners. We were amazed that so many people were able to join us and one winner travelled from as far as Edinburgh, although she did originally hail from East Ham!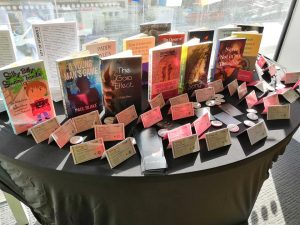 We were thrilled to be joined by our patron Martina Cole who kindly presented the Short Story and Playwriting Awards and some gifts for the shortlisted Book Challengers who are halfway through the 12 months of mentoring. We are looking forward to reading their finished novels next year!
Is was very special to have so many people who have been supporting us and with whom we have formed such great partnerships over the past few years, all come together; including our funder Arts Council England, and our long-term partner New Generation Publishing.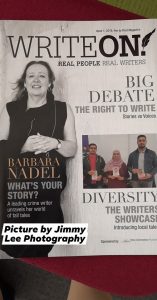 At the event we were also very excited to be launching our new magazine Write On! the finished article is far better than we could have ever dreamed it would be and it was great that the team involved were there either in person on watching on our Facebook Live stream!
We welcomed friends old and new and we look forward to making many more new friends as we enter our new Year of International Storytelling.
We were also treated to a preview of the ReadFest 2019 line up that we will be announcing very shortly.
Appropriately, as we were celebrating the end of our Women and Activism year, we even managed to keep the audience updated with the scores for the England vs Norway Women's World Cup match!
We have a truly exciting year planned and hope you can be a part of it!
To see the Facebook Live video go to: https://www.facebook.com/OfficialPentoPrint/videos/613183125866214/?t=37
Read the Winning Poems and Short Stories
on the Write On! Showcase page CLICK HERE
Winners Presented with Awards on the Night
The Pen to Print Poetry and Short Story Competition
Each competition winner received a Pen to Print trophy, certificate, pen and Samsung Tablet PC. Runners up received a Pen to Print certificate and pen.
Poetry Awards
Winner
Sylvia Ann Telfer with Where the Moths Dance
Runners up
Demi Whitnell with Ode to My Boy
Sasha Callaghan Tamesis
Highly Commended
Christopher Whyte with South Hams
Short Story Awards
Winner
Matthew Wixey with Michael Says Goodnight
Runners up
Tomas Beranek with Exhibition
Philip Charter with Black and White Stripes
Highly Commended
Brian Thompson with Eleven
Holly Willis with Strings On Me
Pen to Print Playwriting Awards
The competition winner received a Pen to Print trophy, certificate and a Samsung Tablet PC.
The other finalists each received a trophy and certificate.
The final six plays competed at the final script-in-hand performance at the Broadway, Barking on 23 May 2019; where the overall winner was decided.
Winner
Tom Mellors with his play Tidal Wave
Finailists
Jack Lawernce with I Will No Eat My Peas
Nick Maynard with The Niqab
William Patterson with Recruits
Ophelia Reid with The Hitwomen of Highbury
Matthew Wixey with Shotgunned
The Book Challenge Finalists
The shortlisted finalists of this year's Book Challenge were selected by a panel of writing experts in December 2018.
Throughout 2019 they are being mentored by a writing professional and will be submitting their final manuscripts in December 2019 after a year of hard work.
To celebrate the the milestone of being half way through their mentoring they were presented with a certificate, a pen and a copy of The Writers' and Artists' Handbook.
The overall winner will be decided during the spring of 2020 and announced at the next Pen to Print Awards in June 2020.
The 2019 finalists are:
Gurjit Singh Banal with Bones
Josephine Channer with Holloway: Prison Diaries
Dami Edun with OgMan The Birth of a New King
Dagmara Drozdowska The Cry of Runes: Divine Your Future
Agnieszka Drylas-Makhloufi with The Journey of Seagulls
Elaine Hiller with The Cursed Shore 
 Nat Jordan with Nest Egg
Nick Maynard with CRIPPLE
Do you have a story you would like to write and turn into a book?
Here is your chance to take up The Book Challenge!
The next competition selection process is now underway you have until September 2020 to submit your idea for a book for a chance to win a year of mentoring support for your writing and to see your finished work in print!
For more details of how to enter the next Book Challenge and other Pen to Print Competitions CLICK HERE
Update:
In addidion to the awards presented on 27 June we also announced the results of the young people's competition on 8 July 2019.
The Pen to Print Michael Feld Creative Writing Competition for Young People
The winner received a certificate, £50 Book Token, Kindle Fire Tablet and The Michael Feld Memorial Salver. The winner's school received £100 of books.
Runners up each received a certificate and £25 Book Token.
Awarded at the Feld and Fairchild Awards on Wednesday 8 July 2019 at the Town Hall, Barking.
Presented by The Mayor of Barking and Dagenham Cllr Peter Chand 
Winner
Zaynab with a poem Memories
Runners up
Toluwani with a story Intergalactic Universe
Sammi with a story Secrets of The Princesses
Highly Commended
Zaynab with two poems Fireworks and Teachers
To find out more connect by email pentoprint@lbbd.gov.uk or call 020 8227 2267.
We have a truly exciting year planned and hope you can be a part of it!