Write On! Features: Making The Shift From The Formal To The Creative by Niema Bohrayba
By Niema Bohrayba
The switch from writing formal industry-related papers and reports to writing creatively has been, and still is, quite a challenge for me. I think it's to be expected, since I've been writing work-related papers and reports for 20 years, and have only recently begun pursuing my passion for writing creatively.
My interest in writing is not new. I've enjoyed and admired the written word since childhood and would read anything I could get hold of. It was my escape and, to a certain extent, still is.
Writing is an important part of my day job, and this includes producing papers and reports for colleagues, board executives, and wider stakeholders. I enjoy writing these because it feels like such a natural activity to undertake and hardly ever feels like a task any more. It's safe to say that, after two decades of practice, I'm fully connected with what I call my 'formal voice'.
Embodying my formal voice involves writing consistently in the third person to produce a piece that doesn't sound as though it's written by me. Instead, it tries to be the voice of a particular project, team, or organisation. To produce a formal piece of writing, I need to 'take myself out of my writing'.
By contrast, when I read a piece of creative writing, I hear the voice of the author clearly and, therefore, I recognise that my aim in claiming my authentic voice is to 'put myself back into my writing'. It's therefore a mental shift as well as a technical shift. To help me achieve this, I'm trying a few approaches that I think have been useful so far.
Finding Time In My Daily Routine
I fit my creative writing practice around my work and other personal commitments, so this means either an early morning writing session (between six and eight am), or an evening one (between seven and nine pm). I commit to six hours a week of creative writing as a minimum. I usually have a Sunday afternoon planning session. This is when I plot my creative writing time for the week into my diary. This means I know I have protected time in my schedule to explore and hone my authentic creative voice. If I have a particularly busy week ahead, then I have the flexibility using this system to have longer sessions on the weekend, as opposed to having time spread across the week.
Reading Books On The Writing Craft
Learning from experts in the field about the technical aspects of writing as well as the mindset adjustments I need to make has been invaluable. Examining good pieces of writing and developing an awareness of how authors have achieved good writing, has helped me to understand how to better structure my own. Furthermore, it exposes me to the whole new concept of 'reading like an author. I'm now much more attuned to deconstructing paragraphs I come across and enjoying them through a 'Writer's Lens'.
Write Even When I Don't Feel Like It
There are days when it's a challenge to write anything cohesive and, when these occur, I know I must persist. I try to change things around a bit so, for example, instead of typing, I hand write in my notebook. This really helps me to move out of my procrastination. Even if I write a paragraph or two or use the time for some plotting, then it's time well spent! That said, women are cyclical beings and, as a woman, I honour the times when rest would benefit me the most. As long as taking some time out doesn't mean that my weekly output drops below six hours overall, I can feel at ease that I'm also honouring my creative needs.
Taking A 'Comfortable' Leap
Creative writing contains so many genres and, for my first creative endeavour, I felt a creative fiction project would be too much of a stretch for me (even though it's something I'd love to experiment with further down the line). So I chose creative non-fiction pieces for my first creative writing projects. This has allowed me to begin to experiment, while not feeling the pressure of writing a fiction piece. For where I am now, this has been really helpful.
Connecting With Other Authors
I picked up my first copy of Write On! magazine in my local library and decided to join one of the many training sessions they deliver. One of these sessions was on how the magazine is edited, and it was delivered by the Editor of Write On! Madeleine F White and the editorial team. Shortly afterwards, I joined the editorial team as a volunteer. This has been such a wonderful opportunity to connect and learn with like-minded individuals from diverse backgrounds. Being part of the team helps keep me motivated and inspires me to keep going on my writing journey and push past any sense of being overwhelmed.
Keeping A Writing Journal
There are no hard and fast rules about this. I like to have a little notebook on me when I go about my day-to-day activities and, if I come across an inspirational quote, or if I suddenly have a fun idea, I jot it down. When I get some spare time, I even add other creative elements, such as decorative paper, Washi tape and stickers to add some sparkle to the page. Having a physical space to curate my creative ideas really helps to keep my writing goals on track.
I'm still at the beginning of my creative writing journey and I'm sure that, in time, some of the routines that serve me well now may change and/ or evolve into something different. I recognise that developing an authentic creative voice requires time and consistent effort. After all, the confidence I've developed in my formal writing has been the result of constant practise over two decades and, when I compare my earlier pieces to what I'm writing now, the difference is vast. I know that, with the same dedication, writing with my own creative voice will become second nature in time. For now, I'm savouring every aspect of my new journey, and look forward to what this adventure may bring.
Niema Bohrayba has worked in both operational and strategic HR roles for 20 years and is a Chartered Fellow of the CIPD. In her spare time, she enjoys gardening, paper crafts, reading and spending hours looking through her telescope on clear nights. She is currently writing her first book.
Issue 18 of Write On! is out now and you can read it online here. Find it in libraries and other outlets. You can find previous editions of our magazines here.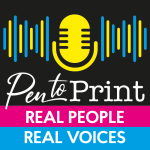 You can hear great new ideas, creative work and writing tips on Write On! Audio. Find us on all major podcast platforms, including Apple and Google Podcasts and Spotify. Type Pen to Print into your browser and look for our logo, or find us on Podcasters.Spotify.com.
*****
If you or someone you know has been affected by issues covered in our pages, please see the relevant link below for ​information, advice and support​: https://pentoprint.org/about/advice-support/
Women are cyclical beings and, as a woman, I honour the times when rest would benefit me the most.