Write On Interviews: Author Laura Maclennan
Write On! interviews author Laura Maclennan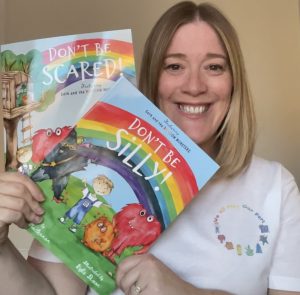 Laura is a children's author with two published picture books and an accompanying colouring book so far. She lives with her husband and two children, both of whom are the main characters in her books, although her daughter's won't be ready until autumn 2023. Laura has taught for 20 years, ranging from secondary education, working with children and adults with autism and teaching baby signing classes to newborn babies and their families. Her experiences with these education roles have taught her how important it is for everyone to have a voice – and be equipped and empowered to use it – regardless of age and ability. And so, Seth and the Rainbow Monsters were created with the ethos of #BeMoreSeth used to promote the messages within the two books: be kind, be yourself, be brave, help others, work as a team, and talk about your fears.
Laura has written stories and poetry since she was a little girl. These days, if it isn't a book it's a blog and she really enjoys telling tales of her holiday adventures in blog form.  Laura's poem, Thank You To A Stranger was included in Organ Donation campaigns and brochures and was also included in Pen to Print's Write On! Audio podcast. She never dreamt she would be published with children's books, having been writing a romance 'chick lit' since 2008! However, the success of the children's books has given Laura the confidence to re-visit this genre, with a fresh idea that's currently a work in progress.
Now, when Laura isn't writing and wrangling with the kids, she's collaborating with Seven Stories: The National Centre For Children's Books, supporting local writers and illustrators with The Writer's Salon, and has begun working part-time with Compass Publishing to learn the 'behind the scenes' ropes. Other than that, Laura enjoys a hot cup of tea with something sweet and swimming. She's also begun rollerskating with her daughter, though, she's not as fast – or agile – as she was 33 years ago!
WO: How would you describe your writing to someone new to it?
LM: My picture books are fun, repetitive, rhyming stories with colourful characters, memorable phrases and a nostalgic feel for the grown-ups, too. Perfect for EYFS and primary-age children up to seven years. My poetry is evocative and stirs emotions, with relatable content and imagery. My blogs are humorous and, often, warts and all!
WO: Can you tell us a bit about your latest book, Never Worn?
LM: With my colouring book currently completing a trio of adventures with Seth and the Rainbow Monsters, the next children's picture book – The Werewolf Wish – An Eliza Rae Adventure –  features my daughter Eliza. It's about using the power of your imagination and gratitude to achieve the seemingly impossible. Our children today are faced with tasks and day-to-day obstacles that appear insurmountable to them from the outset. This story is about seeing yourself succeed before you try and the power in being grateful for what you do have, rather than what you don't.
Never Worn follows the story of Suzy, a young woman forced to move back in with her mum after life's knocks and who is desperate to go to university and re-invent herself. Taking a job in a bridal shop to help save for her education, Suzy meets the owner, an array of interesting customers and a rail of never worn wedding dresses; all with stories of their own that can perhaps help Suzy learn about herself and who she really is.
WO: What inspired you to write in the first place, and what inspires you now?
LM: I've always said it was my grandad who inspired me to write – and, in many ways, it was. I'm determined to help him find the confidence to get his work published!
However, after I recently lost my mum and was looking for material for the Order of Service, I realised that the poetry spark was ignited by her with a poem she had on our kitchen wall when I was very small. I can remember it to this day. I then received a typewriter from her for Christmas when I was about six or seven and the writing bug began. I loved to read as a child, too – and still do. I think that the enjoyment of immersing myself in another world, with these characters who become friends, continues to help me to fuel the fires for creating my own characters and their stories. I write poems all the time for family and friends because I like how words can be used to make something memorable, fun and poignant. My kids are my biggest continued inspiration, though. The picture books are all them, for them, for their friends and for their futures. I get to tell them they can live out all their dreams because their Mammy is finally living a dream she had when she was their age.
WO: The recent issue of Write On! explores the theme of 'Home'. With that in mind, how important is a sense of belonging to your writing process? Do you find your ideal of home working its way into your creativity? Is there a feeling or place you continually find yourself coming back to?
LM: While it hasn't been a conscious effort, on reflection, all my published work and current work has a theme of 'home'. In Don't Be Silly! Seth and the Rainbow Monsters build a treehouse home where they can all be together, having fun as their authentic and accepted selves. In Don't Be Scared! these same characters explore fears related to moving to a new home, having two homes through divorce or separation and the changes to a home dynamic, such as a new baby and bereavement. In my daughter's story, she's going to do everything she can to save her home and, in Never Worn, Suzy is living back at home, but has never felt at home within herself and who she is. A sense of belonging is definitely an undercurrent in my work and it's not so much the bricks and mortar home that's the ideal, rather the ideal that 'home' is when you can accept who you are so unconditionally, that home is wherever you are and whoever you're with.
WO: What one piece of advice would you give an aspiring writer?
LM: Without question, it would be to not hide your aspirations from the world. It was only when I shared a recorded reading of Don't Be Silly! on Facebook that I began my journey to publication. The fear of ridicule was next level, however, when I shared my work and shared that it would be a dream to be published. However, I was actively cheered on and given positive and constructive feedback by this audience. I continued to share my progress and the highs and the lows and it really helped me in terms of confidence and sales. Also, it helped me get into schools with my workshops. If I tell this audience I want to do something, they encourage it, which makes me do it!  So, "Don't be scared," as Seth would say to the Rainbow Monsters. Share your dream and then go and make it come true. Don't sit alone in a corner with a notepad and laptop; instead, shout about your ambition and push forwards!
WO: Question from Twitter user: @lisalovesbooksx – What usually comes to you first, the characters or the plot? What's your drafting process like?
LM: The plot, I would say. I know my children are the main characters but, once I have the plot, I can decide which part of their character I'm going to use, embellish or create. I like to know what story I want to tell and then decide what kind of character needs to tell it. For drafting, with the picture books I tend to begin and write until the draft is done. I then get my husband to have a read and give me his initial thoughts before I dive back in. Never Worn is still a work in progress and I bulked a lot out doing NaNoWriMo, but I find I like to be happy with every chapter first. I don't know if there's a right or wrong way, so long as I keep writing to completion and make sure my amazing editor has the final look!
WO: Can you tell us anything about future projects?
LM: Aside from Never Worn and my daughter's picture book, The Werewolf Wish – An Eliza Rae Adventure, I'm going to be writing a compilation book for women in business, sharing their stories and I have two new picture books to begin. One featuring a very hungry puppy and the third instalment of Seth and the Rainbow Monsters.
WO: Lastly, if you could choose one fictional animal/creature to be a pet or companion, who would it be and why?
LM: Ooh, I think one of the Gummi Bears! They were great. Ooh no, a Womble, so my house would always be clean if they wombled the mess away!
You can find out more about Laura Maclennan at her website: sethandtherainbowmonster.com and all of her books are available there, on Amazon and Waterstones. You can also connect with her on Instagram: @bemoreseth, on Facebook: at Seth and the Rainbow Monsters facebook.com/groups/436839887528709/ and on Twitter: @LauraMac_Author.
*****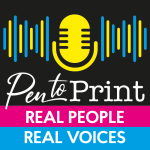 Issue 15 of  Write On! magazine is available now. You can find it here. 
Each edition of our Write On! Audio podcast features an exclusive interview. Find us on all major podcast platforms, including Apple and Google Podcasts and Spotify. Type Pen to Print into your browser and look for our logo or find us on Anchor FM.
*****
If you or someone you know has been affected by issues covered in our pages, please see the relevant link below for ​information, advice and support​: https://pentoprint.org/about/advice-support/
Don't sit alone in a corner with a notepad and laptop; shout about your ambition and push forwards!