Write On Interviews: Writer Ray Miles
Write On! interviews writer Ray Miles.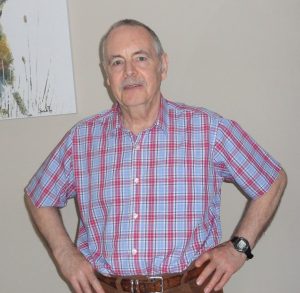 My name is Ray Miles. Now fully retired, I took early retirement in 2017 to care for my long-term partner. I'd completed a short children's book, had stagnated on a second, and was already halfway through a supernatural crime thriller when my circumstances changed. I was then able to join a writing group organised by my local Carers organisation. This awoke the poet in me, as well as reaffirming my love of words and I've found I can create some pleasing verse. The culmination of my literary career so far was being asked by the Edinburgh International Book Festival to read one of my poems at an event at the Edinburgh College of Art in August. I remain an unpublished author for now.
WO: How would you describe your writing to someone new to it?
RM: In my opinion, my writing is a little old-fashioned, but descriptive and full of feeling. I asked my trusted proofreader, who said that it's interesting, profound, has clarity of thought, written from the heart and has depth of feeling.
WO: Can you tell us a bit about your latest work?
RM: After my triumph at the Book Festival, my poetic muse has taken a well-earned break. However, I've just completed some flash fiction for another competition, and I still have my detective novel to complete. Watch this space!
WO: What inspired you to write in the first place, and what inspires you now?
RM: I was lucky enough to have some really good English teachers, both at school and latterly at evening class, along with a good selection of books to study for my exams. So I became involved with Shakespeare (naturally), the Romantic poets (Wordsworth, Keats, Shelley), Jane Austen, Graham Greene, and Thomas Hardy. Their words awoke something in me,  firing my imagination and allowing me to live life and see the world they set out for their characters.
WO: The previous issue of Write On! explored the theme 'Mind Your Language'. With that in mind, have you ever faced any linguistic difficulties in your writing? Or perhaps it has been necessary to modify your language for various reasons. How do you weigh up those decisions?
RM: I rarely have linguistic difficulties when writing. I'm sometimes a little despairing at the way that some words are falling out of use in the English language, so try to incorporate them into my works, both poetry and prose, to challenge the reader, rather than make it 'vanilla'. When reading it back, it pleases me to see the less well-used words and I feel as though I'm a sort-of conservationist, preserving the species before extinction!
WO: The current issue of Write On! explores the theme of 'Home'. With that in mind, how important is a sense of belonging to your writing process? Do you find your ideal of home working its way into your creativity? Is there a feeling or place you continually find yourself coming back to? 
RM: This is an interesting question. Home is an abstract concept that relates to different things for different people. For me personally, although I've lived in the same place for the last 18 years, my previous existence was rather mobile, as I was in the Merchant Navy for a while and had two spells of living abroad. As such, the sense of belonging is not necessarily home in the accepted sense of the word. I feel an affinity with certain parts of the country, and it's these places which inspire my creativity. My writing process doesn't depend on one source, but is an amalgam of many strands of the places I've lived and the experiences that make up my life.
WO: What one piece of advice would you give an aspiring writer?
RM: Write what you know and what you feel. Don't force it and don't worry if you can't write for a while. It will come. Never give up and always believe in your work.
WO: Question from Twitter user: @madeleinefwhite – What was an early experience where you learned that language had power?
RM: When I was in my senior years at school, I appeared in two plays, the first of which was The Long, The Short And The Tall, by Willis Hall. In that one, I played Tojo, the Japanese prisoner. I had no lines to learn but had to be able to express myself visually to ensure the audience was aware of emotions such as fear and hope. At that point, I became very aware of both the power and benefit of being able to use language.
WO: Can you tell us anything about future projects?
RM: I've had several commissions to complete this autumn. Now, I hope to gather enough poems to consider publishing an anthology of my work.
WO: Lastly, if you could choose one fictional animal/creature to be a pet or companion, who would it be and why?
RM: Paddington Bear. Always likeable, he means well, there's never a dull moment when he's around and he always has food available in emergencies!
You can connect with Ray on Facebook, which is his only social media presence, or contact him through Pen to Print.
*****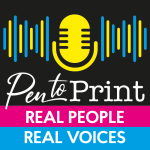 Issue 14 of  Write On! magazine is available now. You can find it here. 
Each edition of our Write On! Audio podcast features an exclusive interview. Find us on all major podcast platforms, including Apple and Google Podcasts and Spotify. Type Pen to Print into your browser and look for our logo or find us on Anchor FM.
*****
If you or someone you know has been affected by issues covered in our pages, please see the relevant link below for ​information, advice and support​: https://pentoprint.org/about/advice-support/
Write what you know and what you feel. Don't force it, and don't worry if you can't write for a while. It will come. Never give up and always believe in your work.