Friday Feature: The Organised Writer
by Antony Johnston
For the past 20 years, I've been able to make a living as a full-time writer. Nobody is more surprised by this than me, but what I find even more surprising is how I've done it, and the myriad twists and turns my career has taken in that time.
I began, like so many of us, by writing short stories as a child. I learnt to type on a manual typewriter (home computers were still a few years away), making an awful racket as I bashed out stories at the kitchen table.
Some time later, my first career did eventually involve computers… but was nothing to do with writing. I became a graphic designer, working in small studios and then eventually for magazine publishers. This got me involved in the early years of the World Wide Web, which in turn helped me more easily submit and obtain my first professional writing work.
It wasn't fiction, though. Instead, I wrote articles and features for a magazine about role-playing games (aka 'RPGs', such as Dungeons & Dragons) called Arcane. RPGs were another thing I'd spent a lot of time with as a child and teenager, so it was a subject in which I had some expertise.
Working for Arcane led me from writing about games to actually writing the games themselves, working for a Canadian independent publisher. Once again, thank goodness for the early Internet. But while doing that, I realised it was creating the storytelling aspects of these games that really excited me. Coming up with new game rules just wasn't interesting to me as a writer.
So I swerved back into fiction, writing short stories and web comics made with artist friends. I've always been a voracious reader and, growing up, that included comics as well as books. The idea of being able to publish my own comic on a website where the whole world (and, more importantly, commissioning editors) could read it at the click of a button was exciting. A couple of years into this I wrote Frightening Curves, a serialised horror story with chapter illustrations by an artist friend, for an online magazine. It was popular enough for an independent US-based publisher to publish a full-colour paperback and, that year, Frightening Curves won the Independent Publisher Award for Best Horror at Book Expo America.
That success, alongside the web comics, encouraged me to focus on comic books and graphic novels for a while, and I went on to write several New York Times bestsellers in the field. In the mid-2000s, I was approached to adapt Anthony Horowitz's bestselling Alex Rider YA series to graphic novels, which became an ongoing concern; the sixth, Ark Angel, was published earlier this year.
Around the same time, I was also asked to write a videogame, Dead Space. Well, actually I was asked to write a tie-in comic for the game, but the producers liked what I did enough that they invited me to write the game script as well (game scripts are both very like, and very un-like, a screenplay).
Dead Space was a cult hit and led to more game-writing offers. Before long, I had a whole parallel career; I've now written more than a dozen published videogames, sit on the games committee of the Writers' Guild of Great Britain, and deliver lectures on writing for games.
Back to the graphic novels: In 2012, I wrote The Coldest City, a Cold War spy thriller that was optioned by Charlize Theron's production company and eventually became the hit movie Atomic Blonde. While I didn't write the screenplay, I was involved as a co-producer, giving notes, visiting the set, and so on. My experience adapting other people's work also gave me the confidence to step back and let the filmmakers make changes which they knew would better suit their medium.
Atomic Blonde's success gave me the impetus — and breathing room! — to move into mainstream thriller novels with The Exphoria Code, the first Brigitte Sharp book. The Tempus Project, second in the series, was published this year.
The film also opened doors in Hollywood; I now write screenplays and recently made my directorial debut by writing and directing a short film, Crossover Point, during lockdown. I worked with actor friends who were also in quarantine, doing everything over the now-ubiquitous video call software Zoom. Naturally, in what almost felt like a throwback to those web comic days, we released it online for free.
That feeling of throwback is important, because what I need you to understand is that, whenever I've begun working in a new medium, I haven't left the others behind. Right now, on my slate, I have two novels, a video game project and a graphic novel in various stages of progress, plus three imminent speaking engagements, a screenplay doing the rounds in Hollywood and I'm pitching a TV show and an animated series.
I haven't even mentioned the two podcasts I host, the social media work I do for the Crime Writers' Association, the album cover I designed for a friend last month, or my own hobby of composing ambient music.
All of which explains why my list of career roles in the introduction to my new book, The Organised Writer, is so extensive. But it also explains why I wrote the book in the first place and, furthermore, why I'm qualified to write it.
When I became a full-time writer in 2002, I thought I'd just write comic books for the next 30 years, send an invoice every so often, and that would be that. I couldn't have been more wrong, of course! But it took a mounting workload, the loss of paperwork, and — the cardinal sin — missing two deadlines to make me understand how easily one could be overwhelmed by a full schedule, especially when working in lots of different media.
The situation became untenable, and I realised I needed help. In fact, I needed to help myself, by creating a system that would enable me to take control; to keep track of all this work, make sense of my schedule, plan my time sensibly, and hit my deadlines.
The Organised Writer is that system, after more than a decade of real-world usage and refinement. It's how I juggle so many different things without losing my mind and, in the book, I explain how you can do the same by following its philosophy and techniques. It won't drown you in checklists, bamboozle you with lingo, or make you buy expensive equipment you don't need. I'm a practical, no-nonsense, nuts-and-bolts kind of writer, and the Organised Writer system reflects that. I've used it for years to build my own career, and continue to follow its principles every day. I used everything that's in the book to write the book.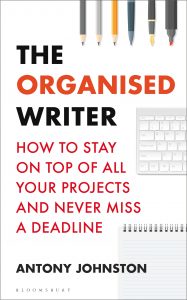 So, if you're struggling to take control of your calendar and schedule, if you have trouble finding time to write (or struggle to focus even when you can find the time), if you simply want to know how to write more and better every day, The Organised Writer can help. I don't know what I'd do without it!
Antony Johnston is a bestselling, award-winning author whose work includes books, screenplays, graphic novels and video games. He fits it all in by being very organised indeed! Find more information and ordering links for The Organised Writer at organised-writer.com
*****
Read the latest issue of Write On! magazine online.
Our First Line Generator Competition Is Now Open. The best two 'first lines' submitted will win a copy of The Organised Writer by Antony Johnston.
For the past twenty years, I've been able to make a living as a full-time writer. Nobody is more surprised by this than me, but what I find even more surprising is how I've done it, and the myriad twists and turns my career has taken in that time.