Saturday Spotlight: Latest Book Releases w/c 4 October
by Claire Buss, Deputy Editor, Write On! 
At Write On! and Pen to Print we want to help connect authors and readers, so we've created a Spotlight page every Saturday, showcasing some of the exciting new reads available. The list has been curated by Lisa Rouiller and myself, based on books that you send us, so if you're an author and you'd like your book in the spotlight, reach out to Lisa at pentoprint@lbbd.gov.uk. Whether you're an indie author, with a small press or mainstream publisher, we'd love to hear from you and shine a light on your new novel.
Write On! offers other opportunities for writers as well. If you'd like us to feature an extract from your book or a short story, please send the extract, book cover and blurb to pentoprint@lbbd.gov.uk with the subject Write On! Showcase (ensuring you have your publisher's permission, of course).
Pen to Print are also looking for short videos from people reading a passage from their favourite book, or authors reading extracts from their own books. These videos will be featured on the Pen to Print YouTube channel and across our social media. Please send in your videos or links to pentoprint@lbbd.gov.uk with the subject 'Video Stories'.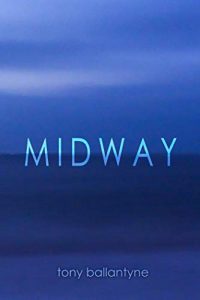 Stories about stories and storytelling.
Written on the road between the past and the future, a writer explores his relationship with his dying father.
Literature, fantasy and science fiction come together in this unique and very personal piece.
Tony Ballantyne is the author of the acclaimed Penrose hard SF novels, Twisted Metal And Blood and Iron, as well as the groundbreaking and surreal fantasy novels Dream London and Dream Paris.
Available to buy here
Connect with Tony Ballantyne
Glittering gilded-age New York holds its lavish charms – and a litany of deadly sins – as intrepid reporter Genevieve Stewart uncovers a trail of corruption and murder.
A chill sets in on New York City in the winter of 1888. A jewel thief dubbed the 'Robin Hood of the Lower East Side' has been stealing from the city's wealthiest and giving to the poor. Genevieve Stewart, a young woman whose family is part of Mrs. Astor's famed 'four hundred'  but who has forged a life of her own as a reporter, decides to chase the story, but gets more than she bargained for: a murder victim sprawled in a dark alley in the dangerous Five Points neighborhood.
A handsome neighbourhood tough comes to her rescue. When she encounters the same man at a glamorous ball a few nights later, she realises he's society scion Daniel McCaffrey. Could this be her Robin Hood? When two more murders rock the 'Knickerbocker' world, it becomes apparent that something much more sinister is afoot than a few stolen diamond necklaces. Genevieve is determined to prove that Daniel is Robin Hood, but she's loath to believe he's a killer as well. From the glittering lights of Fifth Avenue to the sordid back alleys of Five Points, the truth is just one murder away.
Available to buy here
Connect with Kate Belli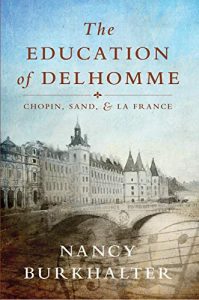 Beaulieu Delhomme, a piano tuner, faces the guillotine for committing treason against the newly elected French president due to his part in the bloody worker uprisings in 1848.
The one person who could save him from this fate is his former arch-rival, the celebrated author, George Sand. The plot leading to his imprisonment revolves around the triangle of composer Frédéric Chopin, his lover George Sand, and Delhomme, Chopin's loyal piano tuner. Both Sand and Delhomme compete for the attention of Chopin, who fights a losing battle with tuberculosis. The president's spymaster uses this triangle to lure cash-strapped Delhomme into exploiting his friendship with Chopin to spy on George Sand, whose fiery rhetoric threatens the new president.
At first, before the uprisings that marked a tumultuous period out of which France's Second Republic grew, Delhomme favours preserving the status quo, because any policy changes might jeopardise his (and Chopin's) wealthy client base. Sand wields her pen against the oppressive laws and ridicules Delhomme for his views.
When he sees how his nephew is abused as an orphan working in a piano factory, Delhomme changes his opinion of the monarchy. He becomes a double agent, paid to spy for the president while secretly working for the resistance. Sand softens her contempt when she discovers Delhomme has switched allegiances and now promotes workers' rights.
Delhomme is caught working for the resistance, jailed in Paris' infamous Conciergerie prison, and faces a trial for treason. Even Sand's testimony is not enough to trump that of the vaunted spymaster, but her fame may be enough to persuade the new president to pardon him.
Available to buy here
Connect with Nancy Burkhalter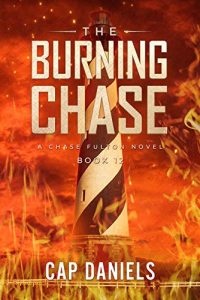 With what he believes to be the most personal mission of his career behind him, American covert operative Chase Fulton answers a telephone call that will change his life forever.
Bonaventure, the antebellum mansion that had been in his mother's family for over two hundred years, is on fire. Could a priceless heirloom rescued from the fire become the foundation on which the rest of Chase's life is built?
When clues discovered in the carnage leave little doubt as to the arsonist's identity, the arson investigation points the team in a terrifying and heart-wrenching direction. With trust betrayed and old wounds ripped open, Chase and his team must face impossible odds to wade through the lies and uncover the truth of what really happened at Bonaventure Plantation.
As always, things are never as they seem in Chase's world of deception and duty. While battling not only to recover his home, but also to save his own life, he must find a way to answer a whirlwind of questions following the horrific loss of a powerful and trusted ally.
From the weathered Outer Banks of North Carolina, to the unforgiving streets of Buenos Aires, the team expands, old enemies re-emerge, and alliances are put to the test in this, the 12th instalment of the Chase Fulton Novels series.
Available to buy here
Connect with Cap Daniels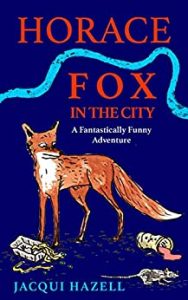 A fantastically funny, middle-grade animal adventure from an award-winning author.
Forced to leave home at only nine months old, Horace Fox goes to the city in search of his brothers and the delicious takeaway food he has heard so much about. Cars, roads and chewing gum confuse him, until he teams up with older and wiser fox, Charlie Boom. But why are they being followed?
Weasel Le Hoop and the deadly hit-snake Zigzag McVitie are after Horace. A swish den in London has been left to the young fox but Badger Burnhard of the Dark Hedges wants it. Can Horace avoid the snake and beat the badger to claim the den that should be his? And will his stomach ever stop rumbling?
Join Horace on his fantastic journey across London and along the River Thames as he searches for the home that should be his before the evil Badger Burnhard can get his claws on it.
Funny and fast-paced, Horace Fox In The City is an epic tale that's perfect for fans of Roald Dahl and David Walliams.
Available to buy here
Connect with Jacqui Hazell
Join Hattie and Jo as they head to Southern Ireland to open Boomerville Manor, a holiday retreat for guests of 'a certain age'. There's Irish craic and shenanigans aplenty for the colourful cast of characters, as everyone gathers for the grand opening.
Meet Melissa, an ex-cabaret singer running from her abusive husband, and Bill, a bachelor bullied from beyond the grave by the ghostly voice of his mother. Along with local bobby Harry the Helmet, ageing aquatic team the Boomerville Babes, eccentric artist Lucinda Gray and heartthrob Finbar Murphy, they gather in Ireland and the fun begins. But murder is in the air and there's mischief afoot. Will the residents get more than they bargained for at Boomerville?
Set in the beautiful Irish countryside, Boomerville At Ballymegille is a heart-warming story of friendship, fears and new beginnings.
Available to buy here
Connect with Caroline James
Conquering fate takes sacrifice.
Victoria of Ourtown believes two things: that the bright, wandering star in the heavens is an abandoned spacecraft which brought her ancestors to this world and that destiny and the will of gods are nonsense. Vic used to scoff at stories of wizards, too, until she acquired their powers. Once a warrior, now a secret wizard, she just wants to live an ordinary life and find a way to atone for the mistakes she's made.
Ashel of Narath knows that the wandering star is the god who created humanity, but this difference of opinion doesn't stop him from loving Vic. All that keeps them apart is a thousand miles and a tragic loss.
Lornk Korng needs Vic and Ashel to execute his plans for conquest. The fact both want him dead is but a trifling snag in his schemes. A bigger problem are the world's indigenous aliens and an ancient enemy whose victory could wipe out humankind.
As plots and counterplots clash across time, Vic and Ashel must choose their allies carefully, or risk losing not only each other but everything they know.
A gripping tale of wizardry, warfare and moral dilemmas unspools in a breathtaking blend of fantasy and science fiction.
Available to buy here
Connect with A.M. Justice
One boy dead, one missing. Their mothers unite and find themselves doing whatever it takes to prevent another brutal murder.
When Rebecca's son, Evan (15) goes missing, the question is asked – is history repeating itself?
Exactly one year ago, Caroline's son, Jase's remains were found buried in a field. Now, she believes Evan is still alive and is certain she can help.
With the help of psychic, Tony Delimonte, the mothers unite in a bid to save Evan at all costs. Caroline revisits her drug-fuelled past, while Rebecca comes face to face with the man who murdered 13-year-old Jase.
As time ticks by, connections and revelations are made and another question on everyone's minds is: are the mothers to blame?
Available to buy here
Connect with K.T. Marshall
Remember, if you're an author and you'd like to see your book in our Saturday Spotlight, email: pentoprint@lbbd.gov.uk and send us the details of your new novel. 
Further Links

For details of Penguin RandomHouse new releases, visit their website here.
For details of Hachette new releases, visit their website here.
For details of HarperCollins new releases, visit their website here.
For details of PanMacmillan new releases, visit their website here.
For details of Simon & Schuster new releases, visit their website here.
Disclaimer: Amazon links are given for ease but please remember there are a number of other online retailers operating, including hive (which helps to support independent book shops), Kobo, Apple Books, Google Play and Nook as well as online stores for bookstores like Waterstones, Barnes & Noble and WHSmiths. Given the current situation, though, please check first.
Our First Line Generator Competition Is Now Open. The best two 'first lines' submitted will win a copy of The Organised Writer by Antony Johnston.
We want to help connect authors and readers, so we've decided to create a spotlight page every Saturday, showcasing some of the exciting new reads available.