Showcase: A River + Weekend Break
Courageous Creative Expression As The 'Poetry Of Survival'
In welcoming the summer, much confusion still exists around safety and travels regarding the lifting of restrictions. In this context, some people continue to plan overseas travel, while others are holidaying here in the UK. With the incremental lifting of lockdown restrictions and the potential of a return to 'normality', many people are looking towards the horizon for a new sense of freedom. This can be translated in many different ways: for example, some of those freedoms include creative expression as well as experiencing newness or difference including travel.
Creativity is the poetry of survival, moving us beyond the basic necessities of our existence into engaging with our higher selves in various ways. It is also a practical manifestation of our innate humanity. When creativity is teamed with perseverance and courage, they birth real change, inadvertently catapulting creators into being midwives. Change does not need to be singing and dancing to be effective. Often a subtle, gentle teasing of the mind can be all that is required to nudge a shift in thinking. This, in turn, can change everything!
All art has the capacity to do so. Writing is an especially portable and accessible art form, which we carry on our travels through life's journey. Writers often take audiences out of the 'everydayness' of their lives into the magic of re-imagined realities. However, sometimes they take us much deeper into our own realities; acute observations showing us what we often overlook.
During June, the Write On! editors excelled at showcasing incredible new writing talent, while exploring translations of releasing and reshaping.  Throughout my Showcase in July, I'll be exploring the creative manifestations of different writers who have the courage to persevere with their creative expression.
There are, of course, other travels people take. Some are internal where we stand outside of ourselves and look within. I was tasked with writing a poem on the theme of rivers and, somehow, the parallels of the travels of a river and the journeys of womanhood, collided into an ode which I dedicate to women who shine in their maturity.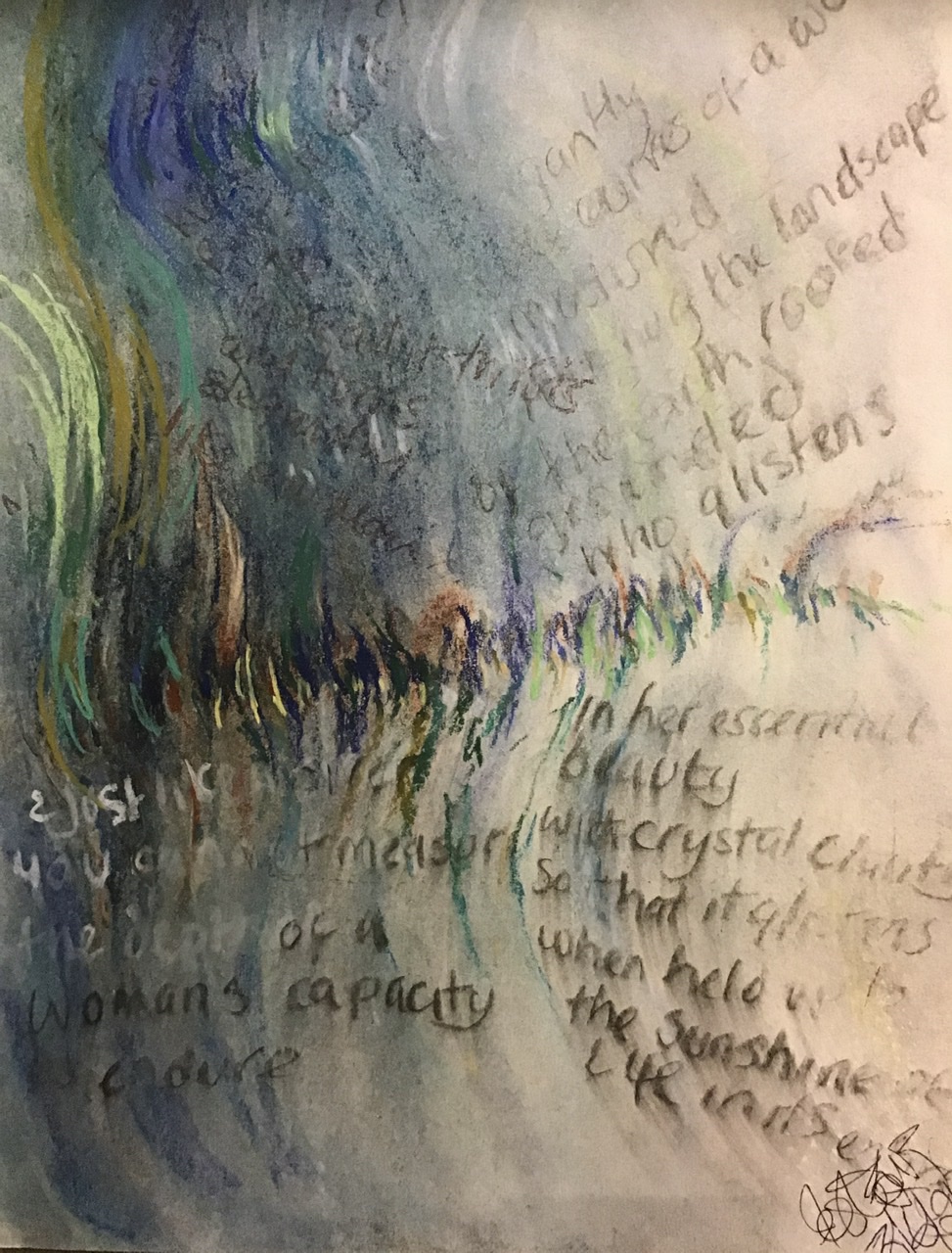 A river
flows
Runs
But does it
No
Instead it twists and turns
Elegantly
Like the curves of a woman
Matured
Which hug the landscape
Of the earth rooted grounded
Who glimmers in her
Essential beauty
With such crystal clarity
That it glistens
When held up to the sunshine
Of life
In all of its entirety
And just like a river
You cannot measure
The depth
Of a woman's capacity
To endure
@Iesha Denize, 2021
Those of you who read my Windrush showcase last month, may recall I explored many facets of those who travelled long term to the UK in the 1950s and 60s. Now, in contrast, talented local Barking author, Norma Armand takes us with her on a weekend break with an intriguing and unexpected twist, exploring yet another way to journey.
Weekend Break
After checking into the large modern hotel, the receptionist told us our room was on the first floor, and he indicated the lifts and stairs were to our left. Holding the room card, I followed Mason, who led the way, pulling a small red suitcase on wheels. It contained all we needed for one night.
"Let's take the lift?" I suggested, stopping at the lift doors.
"Na. It's only on the first floor," Mason said, already climbing the stairs.
I went after him, and on the first-floor landing, we walked through a long corridor with low numbers. At the end were stairs that led us down to the high numbers. Strange setup, I thought, but we eventually found our room, which was clean and spacious with the usual facilities.
We'd spent most of the day in the city centre, visiting museums and shops, so my feet were sore.
"I'm going to have some tea. Do you want some?" I asked as I took the kettle to the bathroom for water.
"No thanks," Mason said, and l returned to find him stretched out on the double bed.
"At least take your shoes off."
"All right," he moaned and removed his trainers.
I made my drink and ate a packet of the small complimentary biscuits while watching Sky News. Mason had fallen asleep.
It had been a long day starting with a three-hour train journey early this morning. I planned to have a quiet evening at the hotel, and in the morning, after breakfast, we'd get the bus to the zoo and spend the day there before heading home.
At 6:30 pm, I woke Mason up, so we could go down for dinner. The dining room's location was on the ground floor. We retraced our steps along the corridor, went up the stairs and followed the arrow to the reception. We came to the lift.
"Let's take it," I said and pressed the button. We got in and went down to the ground floor.
After giving our room number, we were allowed to choose our table as the restaurant wasn't full. We studied the menus in silence. I decided to stick to a Lasagne, one of my favourites.
"What are you having?" I asked Mason.
"I think I'll have the spicy chicken wings for starters, and then a quarter pounder with cheese and fries."
"I hope you're going to eat all that."
"Just watch me." Mason displayed a cheeky smile.
The waitress arrived and asked us what we wanted to drink. I opted for a glass of wine and a coke for Mason. After ordering our food, she took the menus away. Seeing Mason pick up his phone, I suddenly realised I'd left mine on the bedside table in the room.
"Damn! I've forgotten my phone, and I promised to ring Tessa before she goes out."
"I'll go and get it for you if you want," Mason offered.
"No. I'll go," I said.
"Where is it?" Mason stood up.
"On the table, by the bed. Are you sure?"
He held out a hand. "Give me the card."
I gave it to him.
"See you in a bit," he said and left.
Mason returned just as the starter arrived and handed me the phone. "Thanks. That was good timing."
As Mason got stuck into his chicken wings, l spoke to Tessa. She was at an age when she didn't want to go places with us anymore. She assured me the house was still standing. Her friend Eva had just arrived, and they'd be going out shortly. And everything was arranged for the sleepover.
Mason licked his fingers. "You didn't know there was a third floor in this hotel, did you?"
"There isn't. I haven't seen any signs for it."
"I know, but when I went back to the room, I got the lift, and it took me to the third floor."
"Oh," I said, not very interested in the conversation.
"Don't you wanna know what was up there?"
"Presumably lots of rooms?"
"Uh uh". Mason shook his head.
I smiled. "You're making it sound very mysterious."
"It was fantastic."
"What was?"
"The room on the third floor."
"Mason, what are you talking about?"
"I'll show you later."
"I'm intrigued," I said as the waitress came to clear away the plate of chicken bones.
We both enjoyed our mains and gooey desserts.
"Let's go and see this third floor," I said after draining my glass of Pinot Grigio.
We left the table and headed for the lift. When it came, we stepped inside. The control panel showed ground, first and second floors only.
"See," I said and pressed the button for the second floor.
"There is a third floor, I've seen it," Mason protested.
The lift pinged, the doors opened, and out we stepped, onto the second floor. We walked down to our room.
"You really had me going there," I laughed.
"I don't understand it." Mason acted genuinely surprised.
"Let's just forget about it," I said, swiping the card on the door.
We watched a movie before going to bed, but Mason didn't seem to be enjoying it, and I kept thinking about the third floor.
As l was preparing for bed, l asked, "What exactly did you see up there?"
"Why are you asking, when you think I'm lying?"
"Curiosity, I suppose."
"Ok. I'll tell you. When I went in the lift, l pressed number one for the first floor. I was surprised when the blue light showed the number three. The doors opened, and for some reason, l stepped out."
"Go on," I prompted him.
"It was quite dark, but there was just enough light for me to see where I was going. I didn't see anyone or hear anything as l walked along the passage. I turned a corner and saw the outline of a door in front of me. A strong light was coming from behind it with all the colours of a rainbow. And it spread out like a sunbeam."
"What happened then?"
"I wanted to open the door, but I knew you were waiting for me, so I turned back, found the lift and I went down to our room."
"What do you think was behind the door?" I asked.
"Something beautiful," Mason replied.
"And you're sure you didn't dream it?"
"It really happened. I swear."
I sighed. "Oh well. I'll ask the reception about it in the morning."
During the night, I tossed and turned, unable to get comfortable, while Mason snored softly beside me. At one point, I stretched out my arms and felt an empty space. I sat up and switched on the table lamp. "Mason?"
I went to the bathroom. The door was ajar. I put the light on and entered, knowing he wasn't there.
I caught my reflection in the harsh glare of the mirror and met terror there.
I quickly got dressed and left the room. I made my way along the maze of corridors and stairs until I arrived at the lift. I called it and stepped inside. I pressed the button for the second floor. Up l went. I stepped out and wandered along the corridor, looking for any stairs that led to another level. I found none. I made my way to the reception and spoke to the young man on duty.
"Hello. I need some help. I'm in room 507, and my son, Mason has gone missing. He's fourteen. Have you seen him?"
"I'm sorry, Madam. l haven't seen anyone fitting that description."
"What about the person on duty before you?"
"I'd have to speak to him."
"Well, do it now!"
I watched him pick up his phone and speak to someone on the other end.
"No? No. l will."
"You've got to call the police," I urged, twisting my t-shirt.
"I'll speak to the manager first, and then we'll do a thorough search of the building."
"Have you got a third floor?"
"A third floor? No, we haven't," he answered while making another call.
"That's where he'll be," I said, but he wasn't listening.
"Don't worry. We'll find him. But for now, could you take a seat in the lounge, so I can get things moving? If you don't mind?" He escorted me to a plush armchair before returning to the desk. Shortly after, he was joined by the manager and security staff to discuss their plan of action. A search of the building and grounds was made but not the occupied rooms until later that morning. I knew they wouldn't find him. Neither did the police, for Mason had gone into the room on the third floor and entered another realm.
(c) Norma Armand, 2021
Norma writes short stories; often focusing on the dark side and she enjoys watching old movies. In this piece, she took me momentarily back to The Twilight Zone and Tales of The Unexpected two old drama TV series from the 1980s in the UK. As she shared her narrative of a mother losing her son Mason to another realm she reminds us that many of us as creatives often seem to share another world within the world. See her Write On! interview here . Unearthed and Other Stories is available to buy here.