Thoughtful Tuesdays: Contradictions
By Eithne Cullen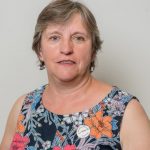 Welcome to my January 2023 'Thoughtful Tuesday' page.  I hope the celebrations of Christmas and the New Year have left you rested and ready for whatever the future brings.
It's a funny feeling, seeing out the old year and greeting the new. We think of the old year as something to leave behind and hope for better in the coming year.  Which is why our current theme is contradictions – there are two sides to every story – and you'll find the pieces I've picked for the page today reflect this.
First up, here's a piece for writers about writing. It's a good example of how we want to send our writing out into the world  but wonder how it will be received; the contradiction of feeling brave one moment,  and vulnerable the next.  Jason Duck captures the feelings of excitement and dread a writer can feel in his piece.
The Agony And The Ecstasy Of A Budding Writer
I started writing fiction nearly 40 years ago.  I sent my work off to publishers and agents and either I got no reply, or received the dreaded rejection letter.  I say a letter, but it was usually a hastily written scrawl across one of their compliment slips.  As a young writer experiencing low self-esteem, there were only so many rejection slips and silences one could take, and like a lot of budding writers, I gave up.
Recently, I discovered the Pen to Print writing course and this ignited in me a desire to pick up my pen again (now laptop) and embark upon my second attempt at being a writer. The course, which was held online due to Covid restrictions, was led by Ian Ayris, an author who has three novels, a novella and over 40 short stories to his name.
Ian's presentation was loose and relaxed and not what I'd expected.  As the course progressed, I warmed to his down-to-earth 'happy-go-lucky' approach and this gave the class its relaxed feel, where everyone was encouraged to be helpful and support one another as writers.
Ian taught the technical side of writing: the editing stage, how to write a synopsis and query letter.  Most helpful for me was the homework, where we sent Ian a 200-300 word piece every month and he would give praise and constructive criticism on how we could improve.  During the sessions, if he had our permission, Ian would use some of our stories to discuss and encourage us to offer our input.
A couple of mine were critiqued and, although on the one hand, it's quite daunting to listen to your story being deconstructed by your peers, on the other I personally found this the best learning experience, as the advice I received from Ian and the other students was invaluable.
Using my new and improved skills, I started to send work off to various short story competitions and magazines.  I sent a gritty crime story to Bristol Noir magazine and their comments were encouraging, although it wasn't quite right for them: Gritty as hell but needs more dirty realism. Yeah, I had to look that one up too.
I sent another, a spooky tale, to Terror House magazine and after a month of waiting I received an e-mail from the editor, letting me know he liked the piece and would be publishing it.
Without Pen to Print's support and invaluable advice from Ian, I'm in no doubt I would still be getting silence or rejection e-mails and not enjoying my first success as a fiction writer.
When I told Ian of my success, he congratulated me, then said: "Write another one."  Wise words. I'd better crack on!
Below is the link to my short story:
A Kiss in the Gaslight (terrorhousemag.com)
© Jason Duck, 2022
Connect on Twitter: @duck_writer
*****
Next, are two poems from Pen to Print poet, Mary L Walsh. The first is an exploration of trees, mighty and strong, standing up to the fiercest conditions, yet giving shelter to the weakest creatures.
Trees
Magnificent against the blue
Dappled
Shaded birds rest
As branches
Grow heavenward
Leaves
Glowing green, gold
Rippling
Wind shaken
Spreading shadow
Mighty
Strong
Roots anchored firm
In the ochre'd earth
Withstanding all but the
violence of hurricanes
Even then re-rooting
Regenerating
Growing.
Providing shelter
As mice make homes
Among their fallen trunks
They feed the earth.
© Mary L Walsh, 2015
Here's a picture I took of just such a powerful, impressive tree.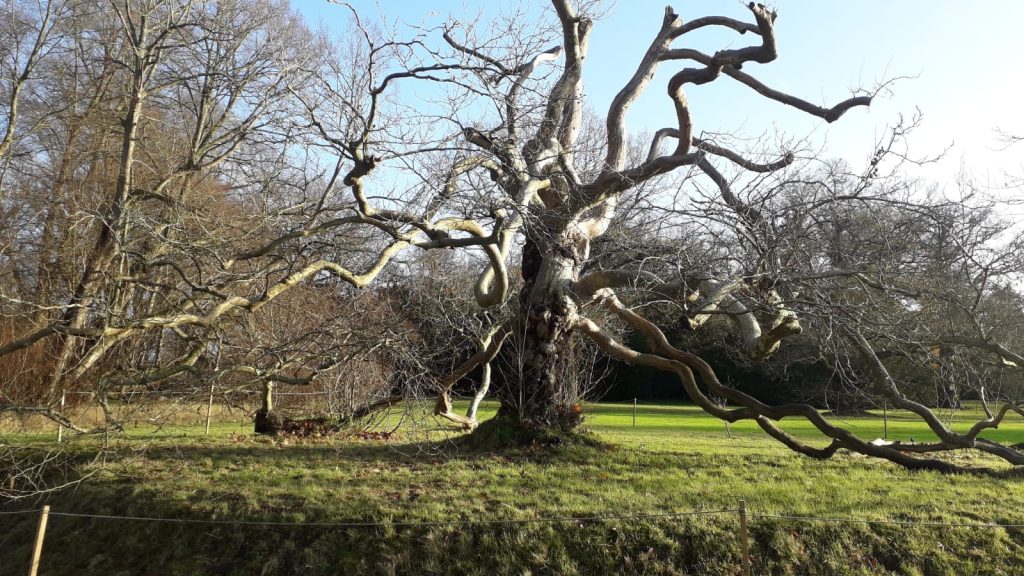 © Eithne Cullen, 2023
*****
The second poem from Mary is advice about the dangers we might face in the world. I found it interesting that we always think of the past as a safer, more comforting world and worry about the present. Mary's father's advice reminds us it wasn't always so safe and cosy back then.
Things My Father Told Me
My father told me, a teenager, never leave your drink upon the bar
When going to the loo
It might contain a Mickey Finn, put there to bamboozle you
When walking home alone at night to face oncoming cars
Then they have no excuse to stop and take you somewhere far.
If someone grabs you with their hands
Upon the shoulders there
Grab their little fingers and force them up into the air
Stamp on their foot and run like heck
Screaming all the while
If that don't see the what's it off
Then 999 please dial.
All this in 1972
Before the world went mad
My life was made the safer
With advice from my dear Dad.
© Mary L Walsh, 2022
Connect on Twitter: @MaryWal11526731
*****
This piece, from Pen to Print regular, Danny Baxter, is at once a poem about staying safe within the 'comfort zone' we often talk about and, at the same time, reaching out and taking a risk.
Journey To The End Of The World
Can't reach, it's too far…
Lean over too much and I'll capsize, then into the water floating down to deep black.
Too much investment in my cargo there's nothing else for it; you'll have to come closer … For this divide is too wide.
The compromise you ask me to make whilst you yourself make no movement to concede ground in this direction,…
…Do you despise this direction, that is, moving in my direction, more than the opportunity to negotiate this division?
Against my better judgement, I have come light years to your direction to close the gap from my direction…
For the sake of your proposed bigger picture, I cut myself adrift from my safe haven and floated out into uncharted waters.
For the benefit of the doubt, I left comfort behind to embark on this journey to a distant place only to be told on arrival that it's a little further ahead, and a little further still.
And as the space we are to meet at drifts further on, I have arrived somewhere at least, and that is to the end of my tether,…
…Yes, despite everything I still have a tether. You see I'm not for moving goalposts.
My understanding of who I am is rooted in where I come from and where I have desired to go…
…And no matter how far you compel me to travel from that position, from my disposition… it will always serve as a compass for what direction I will ultimately set my orientation.
© Danny Baxter, Xian Force Productions, 2022
Connect on Instagram: @dan_lbbd
*****
This final piece, from George F Brown, is a detailed description of his journey home. He describes the mixture of memories and emotions evoked by the familiar things he passes. I enjoyed the way he picked up the details of the place he had left and describes his place in that world. And, although he can see all the changes, he knows it so well and feels he can never get lost.
I think it fits the theme perfectly.
Hometown
It hits me at exactly the same moment every time. We've come off the motorway, taken the third exit and headed along the looping dual carriageway. The familiar farms and fields fly past on either side. We pass a couple of back roads * I know from the days I used to take my car and actively try and get lost amongst the muddy and sloping country lanes. But that's the thing with hometowns; you can never get lost.
We pass the first roundabout. Garage to the right, Morrison's in the distance. Now there are the first few rows of houses, lining up like the first wave of defence. We descend the hill, the speedometer always briefly flirting with 40 before the brake eases it back down to the speed limit. I've run up this hill before, drenched in sweat, swiping the hair from my face and then rubbing the sticky moisture that subsequently laces my palm down the front of my top. Legs burning as the final incline is reached, the movements of my body become slow and forced, as if learning to run for the very first time.
And that's when it hits me. We pass the pub at the bottom of the hill, which has been an Indian restaurant for the last ten or so years. It acts as the final checkpoint. Every time we pass, it hits me that I'm actually home. A ball of tension or anxiety briefly bubbles up in my stomach. It's not overwhelming in the way that anxiety can sometimes feel and it never lasts long enough to seem worthy of concern. Instead, it works like the dip of a roller coaster: a brief moment where your stomach lurches and you feel a bolt of energy shoot through your body, right down to the tips of your toes. And then, as quickly as it arrives, we turn the corner past the park gates and it departs again.
The park's a funny place. When empty, it feels almost too grand for the town. The central bandstand looks magnificent in its ivory white tint when admired from a distance. When you're close enough to touch it, you can see the rust of the metal poking through the painted white sheen like a parasite. The flowerbeds are similarly impressive, always decked in colour and decorated with skill and care. The circular path curves around and under the giant oak trees and leads to the children's play area, which stands silent, the swings lightly swaying in the gentle breeze.
The park has soaked up my memories over the years. Swinging in crosses for my brother to head past Dad, goalkeeping with fag in mouth between two tree trunks. Kissing under the wispier, prettier trees near the top while playfully gripping and pulling school uniform. Breaking up and making up on one of the many benches; crisis talks and apologies always delivered while facing straight ahead.
We pass the church on the right, with the long graveyard that extends out from its rear. The train station is straight ahead, behind an industrial park. There used to be a Blockbuster's there, always busy on a Friday night. I remember throwing a tantrum because I wasn't allowed to borrow X-Men 2. Now, it's just another retail ghost that haunts the streets. I stood on the station bridge when I was little, pointing out trains and shaking with delight when one would pass underneath. There's also the station café where I was shaking again, lost in my own thoughts of leaving the town behind as quickly as I could.
And then we see the viaduct, standing tall and triumphant over the rest of the buildings in sight: a ruler from a different time still looming over its new subjects. Designed by Brunel, the series of arches amble along the width of the structure, the brick patching around them slowly having aged into a dull and dirty grey. Within one of Brunel's historic arches is a pub named after him that mainly serves 17-year-olds with fake IDs and single mothers looking to get over the bastard that left them. And it's three Jagers for a fiver.
The cinema lies opposite the viaduct; a similar icon of the town's history. It's been taken over and done up a few times, but there's still the smell of popcorn grease, sweat and decades of vomit that has ingrained itself into the walls of the place forever. It, too, holds many of my childhood memories, from afternoons lost in the magic of Ice Age or Finding Nemo, to evenings where I hardly watched the film at all, instead freely fumbling in the darkness of the back rows.
We pass under the last arch and reach the final roundabout. This is a centre of the town's character, from learning to navigate its changing lanes during a driving lesson, to the time I tried to overtake a lorry and nearly killed everyone in the car. We sail through much more easily on this occasion, the lights for once a series of gleaming greens. The final hill stretches out in front of us. Ahead lie my first school, the doctor's surgery and hospital and the house of a friend I haven't seen in years. I used to walk up there nearly every day one summer and spend weeks doing keepie-uppies and pretending to wrestle on the trampoline. Now, I doubt I'd recognise him if I were to pass him in the street.
We don't go that far. The car cuts across the road and enters our street, the engine humming as the gears change softly. The bubble of tension in my chest is a distant memory as the serenity and security of the large, detached houses and the beautiful, well-kept front gardens surround me once more. The road eventually empties into our gravel driveway as the familiar sound of the crunch of the stones underneath the wheels rushes to my ears. The car comes to a stop. I may now be no more than a visitor to the house, but this is the one and only part of this old, crooked and comfortable little town that will always feel like home.
© George F Brown, 2022
You can connect with George on Instagram: @george_f_brown and via his website: georgefbrown.wordpress.com
*****
Finally, I'd like to wish you all a Happy New Year. I hope the contradictions you find on your way are lively and fun and that your writing life is full of highs, not lows. Don't forget you can submit to Pen to Print by visiting the website at pentoprint.org/get-involved/submit-to-write-on/
*****
Read Issue 15 of Write On! Magazine here.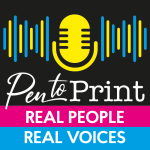 You can hear great new ideas, creative work and writing tips on Write On! Audio. Find us on all major podcast platforms, including Apple and Google Podcasts and Spotify. Type Pen to Print into your browser and look for our logo or find us on Anchor FM.

*****
If you or someone you know has been affected by issues covered in our pages, please see the relevant link below for ​information, advice and support​:
We think of the old year as something to leave behind and hope for better in the coming year.