Thoughtful Tuesdays: Journey Towards The End Of 2022
By Eithne Cullen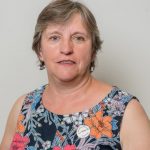 Welcome to Thoughtful Tuesday's December page. The end of the year brings lots of change, lots of emotion and provokes plenty of thought. The pieces I'm sharing today certainly take us on a journey towards the end of the year (and Christmas, of course).
We've been exploring the theme of 'home' through our pages and this piece from Danny Baxter is a powerful evocation of the life and experiences of living in a tower block. I can relate to so many of the memories he shares, as I lived on the 16th floor of a block (also later demolished) for a while.
The 9th Floor
That look of surprise on her face when she entered for the first time into her first flat, right up on the 9th floor
Watched many spectacular sunsets from her window on the 9th floor
Rubbish bags tumbling down, thrown from that odorous rubbish chute room on the 9th floor
Regular chat with neighbours in the elevator taken down from and up to the 9th floor
Got down on one knee proposing marriage to her, one evening in the living room on the 9th floor
Leaking water from roof top seeping  down to soak her flat on the 9th floor
Receiving her anxious phone call that had she got stuck in the lift, escaping through a gap mid floor, coming down from the ninth floor
Moved in 5 years after her, on the 7th day of the 7th month of the 7th year of the 2nd millennium on our wedding day, into this area to the flat on the 9th floor
Watching New Year's Fireworks dance around the London Eye, celebrating on the 9th floor
Shared a wave of greeting with a neighbour going to work most mornings out of the window on the ninth floor
Seen many structures built from the ground up, watching regularly over time from the window on the 9th floor
Handed out hundreds of our dance music CDs produced in my home studio on the 9th floor
Took our first child home from Queens to our flat on the 9th floor
Witnessed the wonderment of winter wonderland-esque scenes in season of snow, from above on the 9th floor
For our animation shortlisted in a city wide film competition final, produced a scene taking place in our living room on the 9th floor
Seen city skyline aflame Greenwich-wise, through our window on the 9th floor
Observing people going to the community centre turned polling station to vote for their future, up from the 9th floor
Seen that dustbin catch on fire right outside our block, down from our window on the 9th floor
When left lift not working: times spent deciding to get off at the 8th or 10th to walk up or down to the 9th floor
Witnessed the darkest storm ever seen, rapidly form then dissipate from our window on the 9th floor
Seen parents taking children to the now biggest primary school in Britain, through the window on the 9th floor
Downstairs to scold twilight shift residents for loud talkings in the front garden, waking us all up on the 9th floor
Witnessed a caravan in the residents car park burnt to a crisp, watching from the 9th floor
When both lifts were out: walking all the way down to the ground then all the way back up again to the ninth floor
Hot stiflingly humid summers endured in our flat on the 9th floor
Violent wind swung swing window violently, shattering glass across kitchen on the 9th floor
Battling the most nefarious of demons, speaking out assertively to the horizon from the window of the 9th floor
Shared an elevator with a guy who had just freshly urinated on its floor, right up to the 9th floor
Seen a man pinned to the ground and handcuffed by policemen whilst we looked down from the 9th floor
Decanted after 9 years from the first of the destined to be demolished blocks, exodus from the 9th floor
In the 9th month, a decade from her first foot through the door, we watched as the 9th floor was brought down to ground floor and was the 9th floor no more
© Danny Baxter, 2022
*****
Ray Miles' love poem is called The Wait and I'm including it here as it gives us a feeling of watching the world while waiting for someone or something. It gives such a feeling of promise and joy, especially at the end: a feeling like coming home.
The Wait
I sit, waiting for my love.
The sun sinks, bathing the world in golden hues.
The mist passes spectre like
Over the ground
But I sit, waiting for my love.
I sit, waiting for my love
While on the road the cars scurry by
Like ants on the way to a picnic.
A plane drones overhead in
Its usual endless flight
But I sit, waiting for my love.
I sit, waiting for my love
And children scream and shout and play
Mercifully far enough away
To not encroach upon my space
Empty now, because
I sit, waiting for my love.
I sit, waiting for my love
Whose light is brighter than
Ten thousand suns;
Whose being fills my world
And makes me whole once more.
I sit, waiting for my love.
I sit, waiting for my love
A shell replete with nothingness
A sentient being but somehow void
Of normal life.
But hark! A call! She comes again
My heart is leaping joyously
I wait no more.
© Ray Miles, 1997
*****
And, of course, December also brings the wait, the build up towards Christmas, which can fill us with joy and delight. But, as Christmas approaches, we can also notice the people who don't share the joy in their lives, this poem that captures the feeling:
It Is He
People draw near for warmth and cheer
Eating Christmas pies.
While someone not far, sleeps in a car
Or under a bridge and starry skies.
There is joy and fun amongst the some
Sharing gifts and sending them round,
There is one, his day spent on his knees
trying to stay away from being teased.
He is cold, he is forgotten
While the others dance and overeat
He is hungry and hope dwindling
with empty hat at his feet.
It only takes one, another one
To offer a hand or a meal
To recognise this is a person
who also deserves to feel…
The joy and wonder of humans being kind
Most of all it is he that should be on our mind.
This Christmas, spread cheer to the ones in real need.
© Cally Jane Islam, 2022
 *****
At Pen to Print, we always see both sides, including alternative views of Christmas. Claire Buss has this interesting take on Christmas food and how we eat things at Christmas we wouldn't touch at other times of the year.
Stuffed
You eat too many chocolates
Too much shortbread
Too many salted nuts
You drink too many sherries
And bucks fizz and Prosecco and spirits
There was too much chocolate
In your stocking
And under the tree
Too many delicious treats bought for the day
Too much richness at breakfast
A mince pie? You couldn't…
Well, just one
The dinner is crafted just so
Every inch of the oven filled up
All the pans, all the plates, all the utensils
A fabulous feast for filling you up
With six kinds of potatoes and seven veg
With Yorkshires and stuffings and meats
With gravy and cranberry and bread sauce
Plates heaving after being overfilled
Crackers pulled, silly hats and full bellies
Before the array of desserts descend
Christmas pudding with custard or cream
Something sticky or chocolatey too
Mince pies and yule log and 'the' cake
As you roll from the table to sofa
With selection boxes and tubs of chocolates
Matchmakers and Fingers and After Eights
Food everywhere you look
Bring out the crackers and cheese, the pickles and the port
The crisps, nuts and twiglets
Cold meat sandwiches and pate
Fruit and ice cream and more, more, more
Until you finally groan
"I am stuffed!"
© Claire Buss, 2022
*****
Thanks, Claire. I felt "stuffed" just reading this!
Another Pen to Print regular, Clare Cooper, tells of a different Christmas: not rolling from table to sofa, but using the time to volunteer and help others.
The Year We Volunteered
The Christmas BC, aka 'Before Covid', my partner, Allan, and I decided we'd had enough of lolling about at home on our own every year, going nowhere and doing nothing, stuffing our faces with too much unnecessary extra food and binge-watching rubbish repeats on the telly. As the dreaded day approached, we roused ourselves from our self-inflicted torpor and asked around for local community volunteering opportunities. The one that appealed most was a nearby church that put on a Christmas feast 'for those who would otherwise be on their own on Christmas Day'. How kind, we thought.
My tentative email enquiry was answered promptly – do come, and please make a contribution; some table decorations and chocolates or biscuits would be nice – so I shopped for carefully-coordinated, tasteful decorations and the statutory tins of brightly-wrapped festive chocolates – you know the ones.
On the day itself, laden with our bags of goodies, we walked around to the church hall. I should add here that, a few weeks before, Allan had had his annual flu jab, after which he was quite ill for a while, and then thoughtfully and caringly passed it on to me. So, by the time Christmas Day arrived, he had almost completely recovered, while I was still about a week or two away from peak fitness – though well past the infectious stage, of course.
We'd been told we would be in charge of the drying-up after the meal but, in view of my wan and pasty appearance, the team decided unanimously to ban me from the kitchen, so the task fell to Allan alone. He didn't seem to mind too much. And I felt only a momentary pang of guilt. It was his fault, after all.
There were several tables set out around the room, filled with people of all ages. My carefully-sourced decorations were soon completely covered by plates, glasses, napkins and crackers, as the meal progressed and the room warmed up.
In our complete ignorance of such matters, we hadn't realised we, too, would be sitting down to the Christmas lunch. We thought we'd just be helping out in the background, then going home to cook our own turkey meal, chilling nicely for us in the fridge. So I felt even more guilty as I struggled to eat mine – although Allan was very happy to help me out.
Our little table was a mixed bag. There was the elderly lady who came from a nearby old folk's home and was looking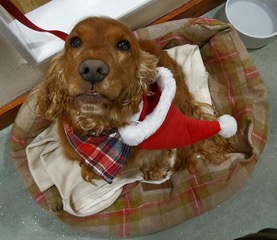 forward to receiving her telegram from the Queen the following year (I do hope she made it). The young girl who was dog-sitting locally over the festive period and wanted some company. She'd brought said dog with her: a very well-behaved spaniel, sporting a rather fetching Santa hat while waiting patiently for titbits. There was the vicar who, along with her husband, had been a teacher elsewhere in the country when, as she simply put it, she'd had "the calling" and they, along with their children, had moved lock, stock and cassock to our neck of the woods. She'd been up hours already, taking the Christmas Morning services and communion, and was looking forward to doing "absolutely nothing" for the rest of the day. Her husband and children, plus assorted friends, were helping out, too. The man sitting next to me was a struggle to engage with; content with merely chuntering to himself most of the time and not showing any interest in anyone else. When it came to cracker-pulling, he said: "I don't do crackers," to which I very firmly replied: "Well, I do!" I gave him no choice.
After our meal, there were presents for everyone under the tree – more tins of biscuits and chocolates – and carols around the piano. Little Donkey really got to me. I blamed my cold. After that, people started to leave. A kind local couple had been ferrying people to and from their homes all day. Meanwhile, the stalwart kitchen team were offering leftover food for everyone to take home.
Having felt imposter syndrome at being there at all – after all, technically speaking, we had each other, and therefore weren't really 'alone' as such – I spoke to a woman who informed me brightly that she had family living locally, and was off to spend the rest of the day with them. Another, on being asked by me if she'd enjoyed the day, said rather sniffily (and ungratefully, in my view) she'd "had better."
By the time we'd helped clear the tables and walked home in the encroaching darkness, we agreed it had been a lot of fun, with a bonus free lunch we hadn't been expecting. If we'd only known, we wouldn't have bought a turkey for ourselves. Still, it meant we could enjoy another Christmas lunch the following day. Result!
© Clare Cooper, 2022
 *****
My final piece came from a discussion about the many people who don't celebrate the traditional Christmas we've all grown used to.
Niema Bohrayba reminds us there are other ways to enjoy the end of the year and other aspects of the season.
I Don't Celebrate Christmas But I Do Enjoy The Season!
Many people don't celebrate Christmas. I happen to be one of them. I do, however, love this time of year for all it has to offer. December sees the end of autumn and the advent of winter in the Northern hemisphere. And this seasonal transition makes for a wonderful array of natural phenomena: from leaves continuing to fall from the trees to the moon returning to a higher elevation in the sky, giving this season its unique vibe.
Christmas isn't just about the actual day. It's about the build-up; in the same way that winter doesn't just happen overnight. Its official arrival is preceded by the gradual shortening of the days, longer, colder nights, and a sense of stillness in the natural world around us.
I'm often asked: "So what do you do in December if you don't celebrate Christmas?" My answer usually evolves around the things I enjoy doing at this time of year, starting with my 'telescope adventures'!
As a star-gazing enthusiast, it's the nights in particular I look forward to enjoying the most during this season, because it's on clear cold nights that the sky comes alive with glittering celestial objects. I like to plan what I call my 'sky-observing activities' at least a month in advance, so I can check out all of the upcoming and visible astronomical phenomena.
I'm particularly enjoying the view of the planet Jupiter at the moment and, weather permitting, I spend many hours observing the lovely skyscape while sipping on cinnamon-spiced hot chocolate.
It's true, I don't plan a Christmas dinner with all the trimmings. Still, I do indulge in some culinary seasonal delights:from winter-themed herbal teas (presented as a tea bag advent calendar) to the abundance of mouth-watering citruses. And while I don't have much of a sweet tooth, I find gingerbread bakes irresistibly charming.
My shopping habits change slightly over the season as well, and I'm fond of late-night shopping events and the many Christmas markets that spring up throughout late November and early December, fostering a sense of community and belonging. As a person who enjoys making things with my hands, I appreciate the many hand-crafted goods on offer and the opportunity to support local small businesses. Christmas decorations never fail to bring a sense of joy to proceedings, and switching on the lights in my town centre is something I have attended once or twice over the years.
Christmas Day itself, from my perspective, is a much-appreciated bank holiday and, due to its proximity to the end of the Gregorian year, I allocate a part of the day to setting up my planner for the new year ahead; reflecting on all the things I'mgrateful for in the year approaching its closure and thinking about all the new things I would like to experience in the new year ahead. It helps that the period between Christmas and the New Year tends to have a quieter quality than usual, so if the weather allows, I plant any new bulbs I want to add to my spring flower display.
In all, I associate this season with things that bring me much joy and, despite the obvious absence of Christmas traditions, it certainly ranks as one of my favourite times of the year.
© Niema Bohrayba, 2022
*****
Many thanks to all who have shared their writing this month. If you want to share your own writing, do visit Pentoprint.org for details of how to submit. You might also enjoy watching the team performing our version of Benjamin Zephaniah's Talkin' Turkeys as our Christmas poem!
All that remains is for me to say my "And finally" – which is to wish you all compliments of the season, however you celebrate and all good wishes for the New Year.
*****
Read Issue 15 of Write On! Magazine here.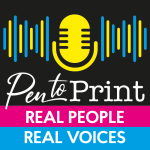 You can hear great new ideas, creative work and writing tips on Write On! Audio. Find us on all major podcast platforms, including Apple and Google Podcasts and Spotify. Type Pen to Print into your browser and look for our logo or find us on Anchor FM.

*****
If you or someone you know has been affected by issues covered in our pages, please see the relevant link below for ​information, advice and support​:
It's interesting how we can use 'Home' to mean lots of different things, I often think of the way migrants use the phrase "back home" to acknowledge their origins and their roots.