Write On Interviews: Writer Diane Simmons
Write On! interviews flash fiction writer Diane Simmons.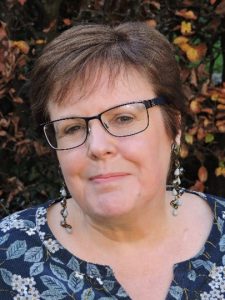 Diane studied creative writing with The Open University and is Co-Director of National Flash Fiction Day (UK) and until recently was Co-Director of Flash Fiction Festivals, UK. Both Finding A Way (Ad Hoc Fiction, 2019), her flash collection on the theme of grief, and her historical novella-in-flash An Inheritance (V. Press, 2020), were shortlisted in the Saboteur Awards. She has been widely published in magazines such as New Flash Fiction Review, Mslexia, Splonk and FlashBack Fiction and placed in numerous writing competitions. A former reader for the international Bath Short Story Award, she has been a judge for flash competitions such as Flash 500, New Zealand's Micro Madness and NFFD Micro Fiction Competition and has co-edited several anthologies.
WO: How would you describe your writing to someone new to it?
DS: I write flash fiction and for a while now have concentrated my efforts on novellas-in-flash. Flash fiction (fiction up to 1000 words), can take on many forms, but I tend to write narrative-driven flashes and at the moment am particularly interested in writing historical flash. My historical novella-in-flash An Inheritance was published by V. Press in 2020 and my collection of connected flash fictions on the theme of grief Finding A Way was published by Ad Hoc Fiction in 2019.
WO: Can you tell us a bit about your latest book, An Inheritance?
DS: An Inheritance is told in 18 flash fictions and follows the Carter family over four generations. It opens in 1932 with a brooch being pawned in the family pawnbroking shop and ends in 2002 with the brooch at the centre of the final story. Throughout the 70 years of the novella, there are secrets, conflicts and reconciliations as the family deal with many kinds of inheritance.
WO: What inspired you to write in the first place, and what inspires you now?
DS: I loved writing as a child and, as an adult, talked frequently about writing a book one day, but I lacked confidence and had no idea how to go about it.  In my forties, I had to give up work due to ill health and signed up for a creative writing course with The Open University. I soon became obsessed, completing as many of their writing courses as I could find and, encouraged by others, started entering short story competitions, with some success. In 2011, I completed a flash fiction course with Fish Publishing and found the flash community to be supportive, vibrant and fun. The friendship provided by that community and events such as National Flash Fiction Day and the Flash Fiction Festival, have helped inspire me to be braver in my writing and to continue submitting.
WO: The last issue of Write On! explored the theme of 'Home'. With that in mind, how important is a sense of belonging to your writing process? Do you find your ideal of home working its way into your creativity? Is there a feeling or place that you continually find yourself coming back to? 
DS: As a child, I loved Enid Blyton's Famous Five books, but enjoyed the scenes of domesticity, such as the setting up of a home in a cave, and used to get a little annoyed when they started having adventures! I don't think I've changed much and my writing is inspired by authors such as Anne Tyler and Margaret Forster, concentrating very much on the everyday, family, relationships and the home. However, when I judge writing competitions, I'm often drawn to stories with a touch of the surreal about them. It's not something I can do and I admire it very much in others.
WO: What one piece of advice would you give an aspiring writer?
DS: I think you have to be a little selfish to be a writer and it's important to not feel guilty about that. Mark out your writing time and guard it fiercely.
WO: Question from Twitter user: @lisalovesbooksx : If you didn't write, what would your creative output be?
DS: I really enjoy performing my flash and if I were younger and braver, I would quite like to be a stand-up comedian.
WO: Can you tell us anything about future projects?
DS: I'm going to take a break from writing novellas-in-flash for a while, concentrating on individual flash fictions. I've become very interested in ekphrastic fiction (fiction inspired by visual art) and that's something I would like to explore more; perhaps working towards a collection at some point.
WO: Lastly, if you could choose one fictional animal/creature to be a pet or companion, who would it be and why?
DS: I'd probably pass on this. Going back to the selfish thing, I think I might resent the time I'd have to spend on caring for the fictional animal/creature. Also, I'm prone to laziness and wouldn't relish any exercise element involved (or the poop scooping!).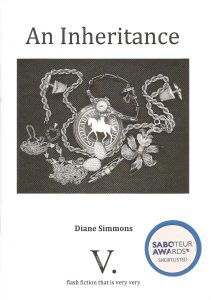 You can find out more about Diane here: dianesimmons.co.uk or connect on Twitter: @scootewriter
An Inheritance is available to buy from Diane's website: dianesimmons.co.uk or from V. Press Poetry: vpresspoetry.blogspot.com/p/bookshop.html
*****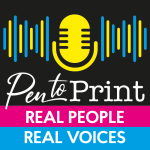 Issue 15 of  Write On! magazine is available now. You can find it here. 
Each edition of our Write On! Audio podcast features an exclusive interview. Find us on all major podcast platforms, including Apple and Google Podcasts and Spotify. Type Pen to Print into your browser and look for our logo or find us on Anchor FM.
*****
If you or someone you know has been affected by issues covered in our pages, please see the relevant link below for ​information, advice and support​: https://pentoprint.org/about/advice-support/
I think you have to be a little selfish to be a writer and it's important to not feel guilty about that.